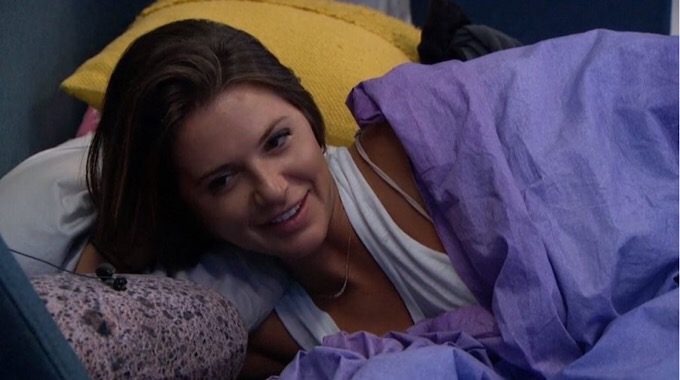 Big Brother 20 has been full of showmances and as we know, showmances tend to ruin a HGs game. While there have been a few showmances that have proven this theory wrong, however, this one can go either way.
Over the course of the last few weeks or so we have watched as Angela and Tyler's flirty friendship turned into a full-blown showmance. Tyler and Angela have been trying to keep this showmance a secret, but the HGs know there is something going on there. Now, they have another thing to hide from the rest of the house.
Last night on the Big Brother live feeds (11:35 cam 1 is the best view), Angela and Tyler are talking in bed and she tells him that she has a secret to tell him. Someone walks in and interrupts the conversation and when the coast is clear, he leans closer to her. You can tell that she is nervous about telling him what she wants to say, but he jokingly says "fine, don't put it out there." He calls her stubborn and that's when she makes him pinky promise he won't tell anyone what she is about to say. She waits a couple seconds and then leans in closer and whispers, "I'm in love with you" into his ear.
Tyler seems shocked by this confession, then kisses her and then says, "can you believe we have the same secret?" She says, "really? I can't believe that just came out of my mouth." He jokingly says he can't believe it came out of her mouth either.
The conversation continues with him telling her that he thought he was the only one that felt that way and then she tells him she thought about telling him she had a 4-year-old child just to see his reaction. After some more mushy pillow talk and some awkward silence, they change the subject and start talking about how they need to keep each other protected this week.
With tonight being a Double Eviction and JC and Brett already gunning to split up the showmance, Angela and Tyler are going to really need to make sure they win this HOH. Otherwise, we could watch Angela walk out of the Big Brother house tonight. However, that might not be the worst thing to happen in Tyler's game. What do you think of their little love confession last night?