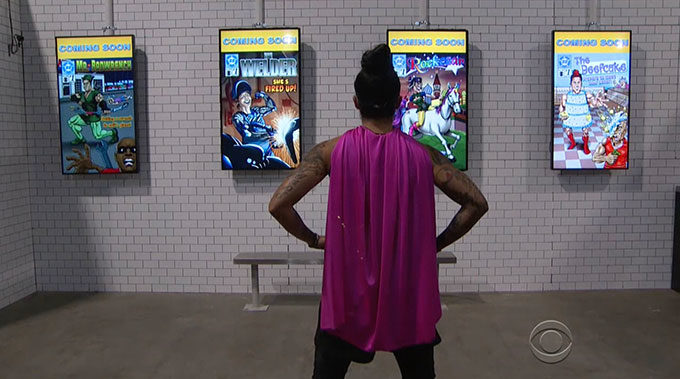 It was BB Comics night on Big Brother 20, and even though her character was called "The Health Nut," Kaycee's super power is clearly winning vetoes. Not only did Kaycee win this season's BB Comics competition, she destroyed it, earning her third veto win in a row.
Wednesday night's episode picked up right after Kaycee nominated Haleigh and Sam. Kaycee reminds us that Haleigh is the target and Sam is the pawn. Sam reminds us that she will blow stuff up if this is a lie. Haleigh is aware of Sam's nature, so hopes she can encourage Sam to make herself the bigger target. Nothing really becomes of that, as Brett, Tyler and JC all remind Sam to stay calm.
Sam gets a lot of help cooling down as the HGs are called to the living room for an announcement. They're getting messages from home! Everyone is happy to see their loved ones and Sam says that was just what she needed. Sorry, Haleigh. Sam is calm again.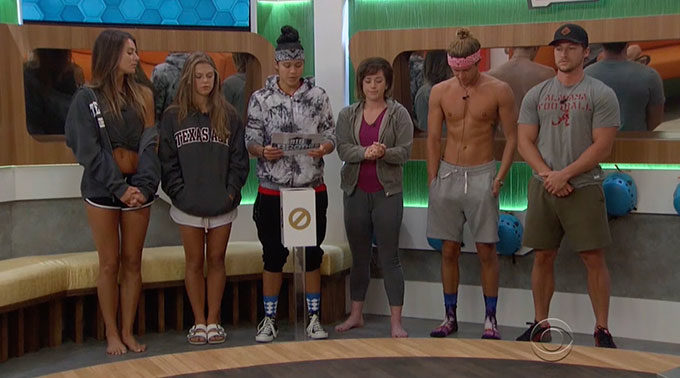 It's time to pick players for the veto competition. Joining Kaycee, Haleigh and Sam in the competition are Tyler, Angela and Bret (via Sam's houseguest's choice).
JC starts getting nervous since he wasn't picked to play in the veto and tries to throw Brett under the bus to Tyler — just in case Haleigh or Sam win the veto. JC tells Tyler once again that Brett is worried about a Tyler and Angela showmance and he thinks Brett wants Angela out. Tyler isn't sure if he needs to worry about Brett or if JC is just making stuff up again. JC just knows if the veto is used, he'll go up, but will try his hardest to make sure Brett is the replacement.
At the veto competition, the HGs learn it's BB Comics and everyone is excited. The comics are actually pretty lame, but Tyler's (aka The Life Guardian) is pretty cool. Oh, and Scottie really must have made production mad during his second eviction because his comic was SNOTTIE. And he didn't even get a super hero cape! One by one the HGs study the comics and then have to maneuver a course to figure out which of the evicted HG super heroes they encounter are imposters (aka spot the differences like in past seasons).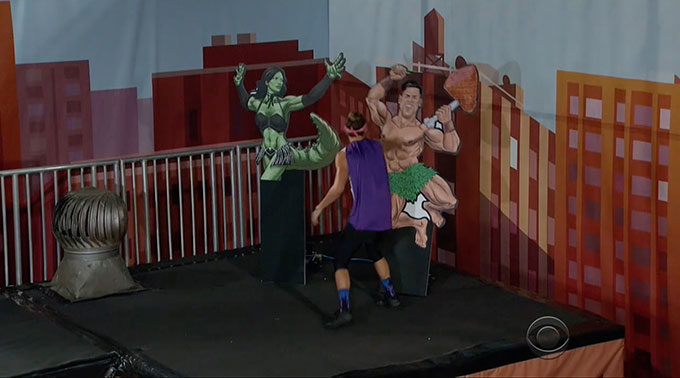 We don't get to see much as far as who really struggled the most so that we'll be surprised when the times are revealed. So let's just get to that.
Times
Tyler 6:35
Brett 7:30
Kaycee 2:17
Sam 15:48
Angela 9:53
Haleigh 18:56
That means Kayce won the Power of Veto! For the third time in a row. I'm not sure Kaycee should be winning all these competitions, but she's definitely proving herself as a late-comer to the competition part of the game.
And since there's basically nothing else going on, we get to see a conversation where Tyler tells Kaycee that JC keeps telling him to go after Kaycee and Angela. And Tyler is worried about JC preaching to Brett about the same thing and not letting them know what JC is scheming. We are supposed to think Kaycee might use the veto so she can put up Brett or JC. Hey, they have to try to give us some suspense to make up for the past few boring episodes.
But despite that editing Kaycee does not use the Power of Veto. Haleigh and Sam remain on the block and one of them will be the first person sent packing during Thursday's double eviction episode.