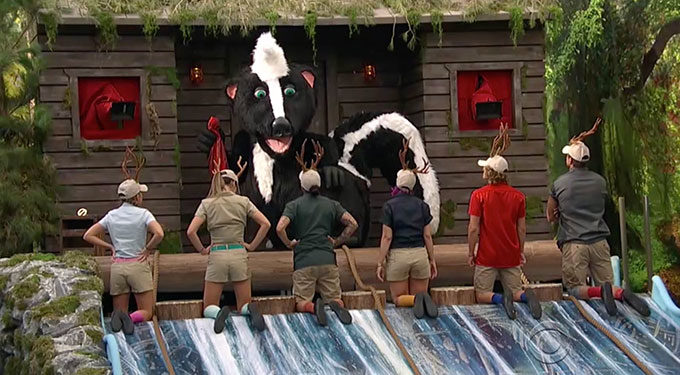 Big Brother 20 on Wednesday night gave us one of the game's biggest blunders ever. I'm talking Marcellas doesn't use the veto on himself-bad. So, so bad. And what makes it so bad is the outcome it's going to lead to on Thursday night.
Before we get into that, though, let's back up. The episode picks up right after the Hacker nomination meeting and Rockstar found herself sitting next to Angela on the block.
Rockstar and Haleigh are upset, of course, and Kaycee is finally getting some airtime as the Hacker. Rockstar starts trying to figure out who the Hacker is. She wonders if it's Scottie or Brett, but then decides it's probably Kaycee. Good job, Rockstar. You're going to need all the kudos you can get this episode.
A little later, Tyler tries to work on Haleigh to get the target off him this week. Haleigh tells him that she's not going to backdoor him (but that's really what she wants to do). And he knows that. He tells us in the Diary Room that he's not stupid and knows she would put him up if the veto is used on Angela (or Rockstar) by anyone other than himself.
Rockstar decides to talk to Kaycee about being the Hacker nominee. Rockstar tells her that six other people could have gone on the block. She delivers it in a way that says she knows Kaycee is the hacker. Kaycee gets defensive really fast and tells Rockstar to stop coming at her and that she didn't win the Hacker comp. Kaycee made herself seem even more guilty if you ask me, but at this point the damage is done. Kaycee is not a very good liar.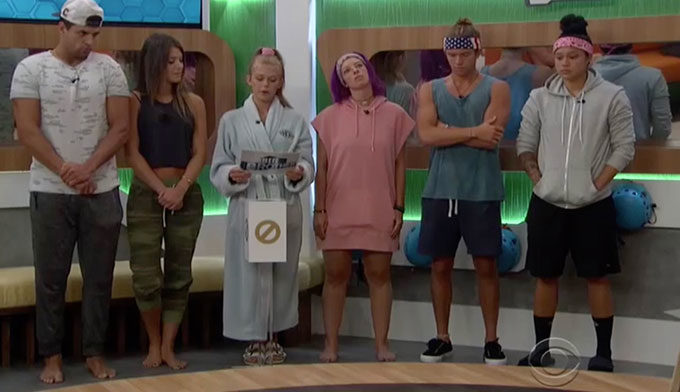 Their little spat is interrupted by the veto draw. The Hacker comes on the screen first to make their pick first. They have chosen Tyler to play in the veto competition. Joining Haleigh, Angela, Rockstar and Tyler in the competition will be Kaycee and Faysal, both via HG choice. Rockstar chose Faysal and Angela chose Kaycee.
It's time for the Veto competition and it's OTEV. The first person out of the competition is Kaycee. In Round 2 it's Angela who is the last to reach OTEV so she is eliminated. Faysal is eliminated Round 3. During Round 4 it should have been Tyler who was eliminated. He picked the wrong names and then Rockstar compares her answer with Tyler's, so he goes back to find the right one. And he beats Haleigh, eliminating her. So she helped Tyler stay in the game.
So it's down to Rockstar and Tyler. And to no one's surprise after that really bad move earlier, Rockstar makes it to OTEV first but has the wrong answer. So Tyler won the Power of Veto. Let's take a moment to really grasp this. Tyler had the wrong answer. Rockstar asked him if hers was right, and it was, thus letting him know he was wrong. He then got to go collect the right answer before Haleigh. Had she not done that Haleigh or Rockstar would have used the veto and Rockstar would have come off the block. Tyler would have used his Cloud app and Kaycee would have gone back up next to Angela.
But instead of all that dramatic stuff that would have kept the house at a pretty even playing field, at the veto meeting Tyler decides to use it to take Angela off the block. Haleigh puts Kaycee back up in her place. So Rockstar will be evicted on Thursday night.