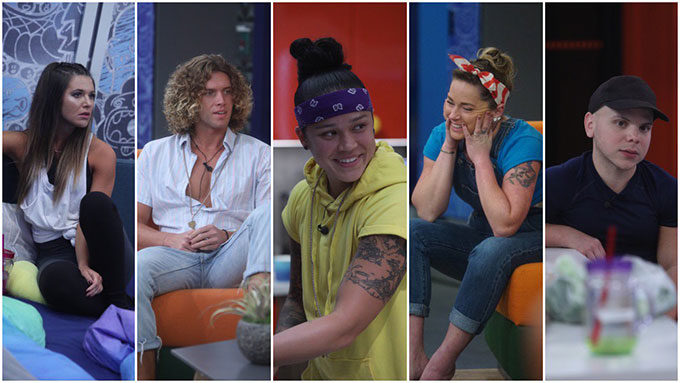 We've watched Tyler make final 2 deals all season long. And now, at the final 5, he sits there with three of those final 2 deals and his girlfriend. Now that Big Brother 20 is in the final stages, how will it play out for him and this allies?
Warning: Spoilers ahead. First of all, let's get this out of the way. According to sources, we know which of Tyler's final 2 deals was evicted just before final 4. And that was Sam, meaning it all went as Level 6 planned. But further spoilers indicate that was not the best decision for Level 6. Yes, apparently JC won his first competition of the season. If you're only going to win one, that's a good one to win. So now, assuming that the final four is indeed Tyler, JC, Angela and Kaycee, what happens next?
As we all know HOH this week is just your ticket to Final 3. You have no power beyond nominations, which also don't matter. It's all about the Power of Veto. But we are being told that JC nominated Tyler and Angela (JC told Kaycee this week if he won she wasn't going up). So with all that in mind let's take a look at the scenarios.
So let's say JC is safe this week. He's off to Part 1 of the final HOH. That means Tyler, Angela or Kaycee is going home. It's going to be crazy to see what really happens, but since it all starts with who wins veto, let's start there.
If Kaycee Wins Veto
So if Kaycee continues her winning streak and wins another veto, it'll be up to her on who to evict. And despite how close she and Angela have seemed all season, Kaycee would vote to evict her. That's probably not the best move, but when you're Kaycee at this point in the game, there might not be a bad move. I think she could beat Angela or Tyler in the end. So it would benefit her to focus on loyalty, and that would be keeping Tyler. And since this will be a "Sophie's Choice" situation, Angela won't be bitter.
So it this is what happens, it's Kaycee, Tyler and JC in the Final 3. And unless JC has suddenly become a beast after one comp win, he'll most likely get cut at Final 2, leaving the jury to decide between Tyler and Kaycee. And I'll say it again, I think Kaycee wins.
If JC Wins Veto
If JC pulls out another win right away, then he might not use the veto and we go with the same scenario above. And since he really wants Angela out, that is his best best because I think Kaycee is more likely to evict her than Tyler. But there's a possibility JC could use the veto on Tyler to put Kaycee if Tyler promises to evict Angela. But that would be a unnecessary extra step for JC.
If Angela Wins Veto
This is where it gets weird. I've never heard Angela have a secret talk with Tyler or Kaycee about what to do if it came down to this. I think Angela is a little too in love with Tyler to cut him though. I think she would probably realize that she can't beat Kaycee, and she loves Tyler, so Kaycee leaves. And as for the Final 2 in this scenario, I think JC goes still. However, Tyler will most likely beat Angela in the final vote, unlike Kaycee. This is probably the best scenario for Tyler to win, honestly.
If Tyler wins Veto
This is where it gets weirder. Tyler has been most committed to Kaycee all season and if he cuts her, then she could actually be upset. But Tyler and Angela are now full throttle in the showmance department, so what does he do? I think he has to go back to what he's said all season and that's he's not letting a girl come between him winning. So he will cut Angela. But that would be a big mistake because he will lose to Kaycee in the end. Tyler's best bet would be to cut Kaycee.
Regardless of how this plays out, there's going to be some emotion and drama at the end of Big Brother 20. So based on my analysis (and this isn't science, so I could be way off), I think JC's HOH win will probably be his biggest achievement of the season, though, because I don't really see him getting further than third. I could be surprised, but that's just my gut feeling. And it also would seem Kaycee has the best shot at winning if she's not evicted this week.
What do you think will happen? Who wins if they get to the end?