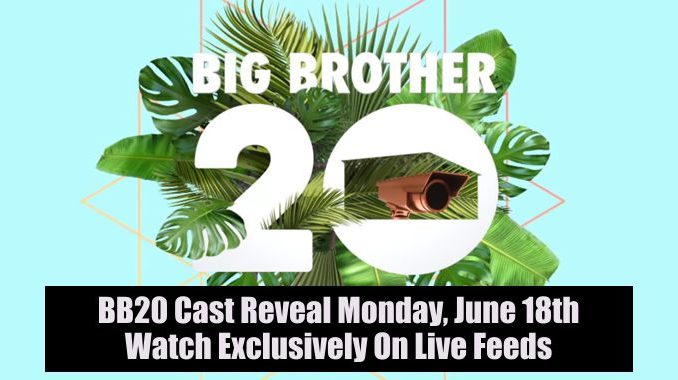 CBS has just announced that we will meet the Big Brother 20 cast on Monday, June 18th at 8AM PT (11AM ET) exclusively on CBS's All Access, home of the Big Brother Live Feeds, with live streaming of the cast interviews. Get a free 1-week trial & watch at no cost!
These interviews will be our first official chance to see who has made the cut and confirm Exec Producer's comments on how this season will not be a Big Brother All Stars event. She didn't say anything about no Vets, just not all-Vets. Fingers crossed that these will be all new, fresh faces for us to meet and discover for the summer.
Big Brother 20 Premiere & Feeds Schedule:
June 18th – BB20 Cast Reveal 8AM PT (11AM ET)
June 27th – BB20 Premiere 8/7c
June 28th – BB20 Premiere Part 2 9/8c
June 28th – Live Feeds launch 10PM PT (1AM ET)
So yes, it'll be a late night kick off for the East coast feedsters, but well worth the wait and of course we'll be covering it all night (and all summer). If you can't stay up for the launch after the second night of the 2-night premiere then we'll have you covered with our Live Feed Updates.
If you've already got your CBS All Access subscription up and running then you're set and ready for the big event next Monday. If you haven't signed up yet then now is the time to get your Free Trial and watch everything live with all the Big Brother fans.


Try 1 Week Free! Only $5.99 per month thereafter. Sign-up now.
New to All Access? It's the online streaming service from CBS that works like Netflix or HBO GO, but features all of CBS's online videos including the Big Brother Feeds. Important, must-have stuff here. The cost is again going to be $5.99/mo to get all your live Big Brother Feeds and streaming episodes, if your market is covered (most are).
The new season is almost here! We're counting down to the premiere in just over two weeks and hope you'll join us again for another amazing summer of BB!
Want more Big Brother? Download our app then join us on Facebook, Twitter, and get our Email Updates for all the Big Brother 20 spoilers, updates, and news all summer long.