We're well into Week 2 of Big Brother 19, so we're definitely starting to see the leaders of the house but also the underdogs of the house. And since most people love an underdog, we've decided to do a weekly underdog report.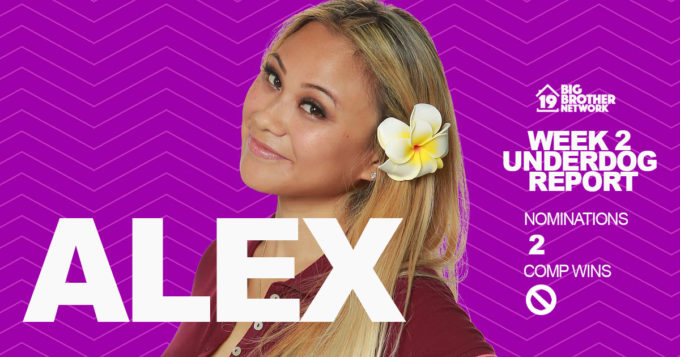 The Underdog of the Week is definitely Alex. She started out Week 1 as an outsider as her allies were placed on the block. When Megan walked from the game, Alex was the replacement. It was beginning to look like Alex wouldn't make it past week one, but she pulled out the veto win and has been rebuilding her game ever since.
With Megan and Jillian gone, Alex was left with only a few allies, and with those few quickly building targets on their backs, Alex has adjusted. Not only did she get Cody and Jessica to change their thoughts on her after that initial week, she managed to become a solider for Paul during his Head of Household reign. Alex is nowhere near the top of any side of the house, but she's managed to not be a target for the next couple of weeks. If she keeps making the right moves, she could find herself placed pretty well in the game.
Of course there has been some talk from Alex that leads us to believe that she has already come to terms with the fact that Paul is going to win the game, but we haven't heard her thoughts in the Diary Room yet, so until then, there's a chance those words were just strategy. Not too many of the houseguests seem to be playing the game for themselves at the moment, so here's to hoping Alex actually is.
Who are you seeing as the underdog of the game at the moment?