The Big Brother 19 Houseguests are still waiting to find out whether or not Christmas Abbott will be back in the game after possibly breaking her foot this morning in the backyard. Now Cody Nickson is trying to prepare in case she doesn't return and he has to fill that vacancy.
Update: Christmas is back so this is all moot. No need for a 6th nom of the week. Phew!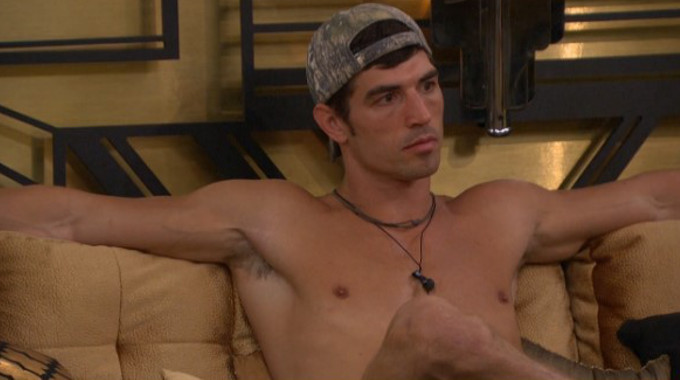 Talking with ally Matthew Clines, Cody revealed he'd take a less aggressive route if he was forced to name a 6th Houseguest for the Block this week. After trying to split up their group of allies by taking a shot at Paul, a move that backfired thanks to his Pendant of Protection, the renom settled on Christmas. HGs consider it's possible that situation could be changing which is leading to new discussions.
Okay, it'd be kinda crazy if there was a sixth nom, since we're past the Veto comp and ceremony, but who knows what's going on. This is anything but a regular week. It's possible that BB calls off this week's eviction all together if Christmas can't return considering they'd be down 3 HGs before the first live show, but we're still waiting to find out what happens there and how it'd be handled. All the same, here's his plan.
Flashback to 10:45 AM BBT 7/3 on Cams 3/4 to find Matt and Cody alone in the HoH room.

The guys are saying what a mess of a week it's been. Cody tries to explain what's been going on since his plans have had to change so many times in just a few days. Now before Cody gets to his new plans he does make an interesting reveal to Matt.
Cody admits his plan to keep "outsiders" around with his deal making was to have someone who could come after their showmance partners. He tells Matt he wanted those HGs to take out Raven, Jessica, and Elena so they could keep their hands clean. Well that's a damning statement to make if Matt wanted to use it against him to rally support of those ladies plus Mark to join him at some point.
Christmas still hasn't returned from her injury earlier and Cody had mentioned something was sticking out of her foot, not a good sign. With the possibility looming, Matt asks what Cody will do if Christmas doesn't come back. Cody assures him he will go after an "outsider" this time around.
Gallery: Christmas Abbott Foot Injury
Initially Cody suggests Ramses would be his renom choice but then Matt whispers Jason and Cody says that yes, he would do that for Matt. So if Christmas doesn't come back, which we still don't know if she will or not, then Cody could likely send Jason to the Block. Well, look at that. We're back right where we started, minus a few allies for Cody.
You'll remember the group, aside from Cody, had agreed that Jason should be the renom after Alex won her safety with the Veto. Instead of going with the group, Cody did his own thing and it failed spectacularly to his surprise. Touching on that issue, Matt asked Cody to let them know next time he wants to do something like that. Yeah, hopefully Cody would have learned his lesson on surprising even his own closest allies, but I wouldn't be too sure of it.
What do you think of Cody's new plan if he has to do this? Who would you put on the Block? He already have very few options and really only has Ramses, Kevin, or Jason to go with at this point if he wants to stay with an "outsider" for the pick. It'll be very interesting to see what happens, but I've got my fingers crossed that Christmas can come back and rejoin the game. As soon as we know either way we'll share the news.
Download our Big Brother App, join us on Facebook & Twitter, and get our Email Updates for more.