Sunday night's episode of Big Brother 19 was a little reminder why production likes to throw in an extra competition into each season to have something to show during the Sunday episodes. Yes, I'm talking about the Ramses/Kevin/Raven filler. Yikes.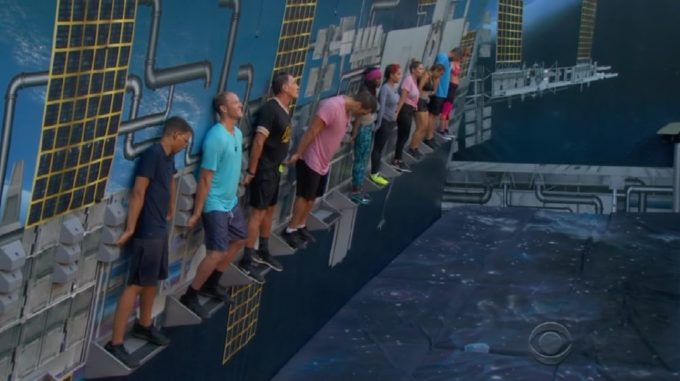 Anyway, the show picks up during the endurance Head of Household competition. Big guy Josh is the first one out, of course. The wall comps always do the big guys in first. Mark is next to fall, followed by Raven, Ramses, and Kevin.
Matt is the next one off the wall and some of the players are starting to sweat since Jessica is still up there. But about 10 minutes later she's down and since Dominique was only holding out until Jessica dropped, she follows her off the wall. Dominique says she knows she and her team are safe now. Or are they?
Jason, Alex and Elena are the last three standing and it doesn't take long for them to start discussing deals. The three of them agree that none of them will end up on the block. Jason agrees first and drops. That leaves Elena and Alex. Elena asks Alex to swear to protect her and the people she wants protected. Alex agrees so Elena drops. Alex is the new Head of Household.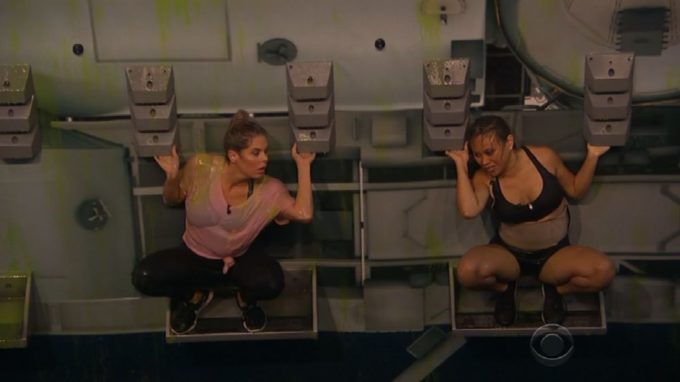 Paul is happy Alex won because during the past week, they've been low-key forming a bond and now that she has power, they can seal the deal (translation: Paul will be able to control her HOH). Meanwhile, Jessica, though misusing the term "floaters" starts to work on her plan to stay this week. And she starts with Jason. He realizes that Jessica has no one on her side and her going home this week is pointless. Jason and Jessica decide they need to figure out how to get someone from the other side up, preferably Dominique.
Kevin and Jason decide to give Alex their input. They both tell her that she can't squander this HOH on Jessica. Alex is open to someone else going home, but she says Jessica has to be on the block even if the plan is to backdoor someone. She tells Jason that if she puts up Jessica, she can try to convince the others there's a rat in the house so that the target moves to someone else. That way, they won't go after her and Jason next.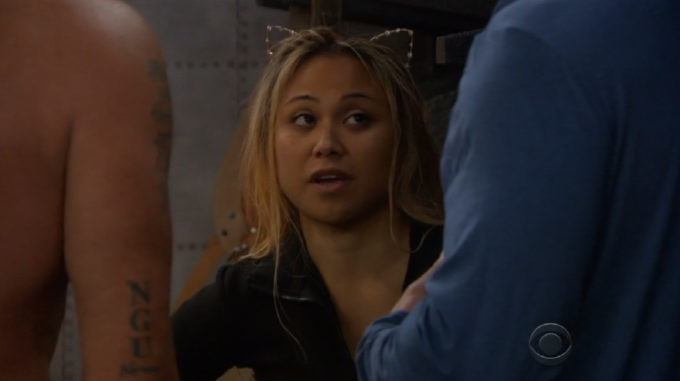 But what's more important is that Paul also thinks Jessica shouldn't be the target this week. So suddenly, watch Alex be certain to target someone else. Paul drops Mark and Dominique's names to Alex. Paul uses the things Cody said during Dominique's talk show against Dom and Mark, so the seeds have been planted.
Elena, however, remembers Alex's promise and tells her that she has a little list of people she wants protected: Herself, Mark, Matt, Raven, Dominique and Paul. WHAT? That's the entire other side of the house. Alex tells Elena she's OK with that list expect for Dominique and Mark. And Elena isn't happy about that. Paul comes in and Elena leaves the room. Paul convinces Alex that there is something going on with Dominique and Mark.
And since there's not an extra competition to show during Sunday episodes, we get a Kevin/Ramses montage, a really silly V-Toad costume shunning and a Raven's illness montage. Oh and Christmas! I almost forgot she even existed. She returns from surgery and it's time to get her head back in the surgery.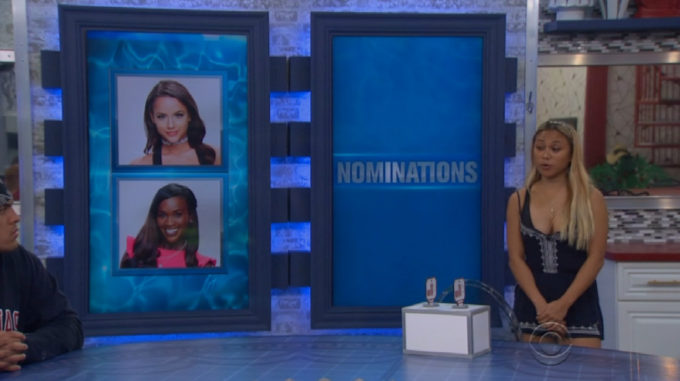 Christmas explains that she had 10 broken bones and that one of the bones was so messed up that she had to receive a donor bone. She also tells the others that she will not get full mobility back in her foot and that eventually arthritis will set in and then another surgery will be required. She breaks down as do most of the others. And Jason feels awful because he knows he's responsible for her injury.
Dominique decides to talk to Alex ahead of nominations. She tells her that she senses something is up. Dominique thinks that Elena is jealous of herself and Mark and is probably throwing her name out there. All that did was sketch Alex out some more since Dom threw some of her own side under the bus.
At the nomination ceremony, Alex breaks her deal with Elena and nominates Dominique for eviction. She does go ahead and put Jessica up as well, just to keep some of the houseguests happy … for now.
Can't wait to find out who won the Power of Veto? Check our our spoilers page for more.