Cody Nickson is about to head out the door this week and he knows it. So what better way to go out than by trying to sabotage as many of your former allies who walked away after you lost your game-mind? Time to spill the beans.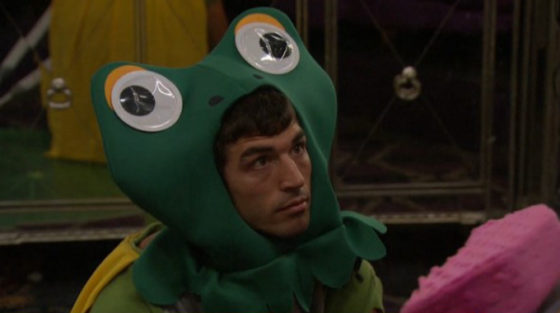 This morning while HGs were slowly waking up Cody sat down with Christmas in a bid to better Jessica's position in the house and maybe even help his own if he gets to return with an expected Battle Back. Flashback to 9:35 AM BBT 7/12 Cams 1/2 on your Live Feeds to listen in on the conversation.
The talk begins with Christmas asking why there has been so much animosity from Cody directed toward her and what caused her to be his renom pick last week. Cody starts off saying she isn't going to believe him but he'll try. He first says Jessica wasn't involved in the choice, but others were. Cody then mentions his thing again about saying Christmas was causing high anxiety in the group whenever she was around. He had been telling Jessica this same thing before he made the renom choice.
So who were "the others" who Cody is blaming? Mark and Dominique. He mentions Mark came to him after doing one of Dominique's interviews and being pissed about Christmas quizzing him on his showmance with Elena. Mark was definitely agitated about that, but I don't recall if this exact conversation happened as he's describing. Next, Cody says, Dominique came to Cody and made the same suggestion that Christmas needed to go.
Cody claims that he made the move to renom Christmas because Mark and Dominique told him to do it. Then after he made the renom Cody claims Dominique came to him and said she was now going to keep Christmas. Cody suggests Dominique was playing him to get him in this position.
Christmas now takes a turn and suggests he put her up because of her relationship with Paul and he confirms that to be the case. The Paul topic takes us to Cody's next claim that for his BD-Paul plan, "Mark knew about that from the start." Now I remember Cody and Mark talking in the Storage room where Cody says he has a plan but he won't tell Mark so he can truthfully claim he didn't know. Maybe Cody told him after that, but from what I saw that wasn't Cody's plan and Mark didn't know at first.
Christmas asks why Cody didn't reveal any of this sooner. That's a good question. Cody says he figured no one would believe him. If I were Christmas I'd keep wondering why he didn't say anything before.
Cody starts throwing out a lot more here about having a group with Matthew, Mark and Dominique early on. He claims they were influencing his decision here to better their position at the cost of his own.
One funny thing here is when Cody gets to Ramses's vote. Christmas says she still thinks Ramses voted to keep Jillian, but Cody says that can't be true because "Kevin was legit blindsided." We know Kevin was the vote against Jillian, but he's done well on hiding that from at least some of the HGs, though other talks overnight make it sound like the outsiders are catching on to Kevin.
Their talk continues with Christmas sharing, Cody sharing, back and forth. The overarching theme here is Jessica was completely unaware while Mark and Dominique are fully to blame because of one comment they both made to him. Nevermind that Cody just said Jessica was in the room at the time.
With Cody gone he tells Christmas to work with Jessica and Alex since they are the three strongest women in the game. Flashback to 9:57 AM BBT to hear this pitch. And if Cody battles back? He wants to team up with Paul and Christmas to go after the rest of the house. Well that'd be a strange sight to see, but if it's good Feeds then I'm all for it!
We'll have to wait and see how this works out for Jessica, and Cody if he returns, but it was definitely worth a shot and I always prefer to see HGs go out swinging rather than sleeping.
As for what Christmas will do with this info, we won't know for awhile. She left this morning at 10:30 AM BBT for her surgery but hopes to be back Thursday in time for the eviction show. Watch for talks after that to see if she believed this talk or not.
Do you think Christmas took the bait? Will she turn on Mark and Dominique as a result while building her connection to Jessica?