Big Brother 18 continued its two-night premiere with the first eviction spoilers and results of the summer when someone from Team Nicole was sent out the door in what's already the fourth comp of this barely-started season!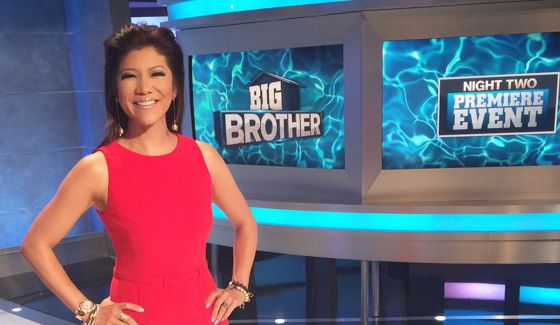 We watched as Veteran HG Nicole's team lost competition after competition on Wednesday to end up in the position of facing off against one another where tonight's loser will be eliminated. The survivors though will be left with the power to crown one of their team members as the first Head of Household and name the first two nominees.
There's just one hour of Big Brother ahead of us in Thursday's show then we'll hit our regular Big Brother 18 schedule with Sundays (8/7c), Wednesdays (8/7c), and Thursdays (9/8c) live eviction shows. Ready to get this party started? With so much to cover there won't be much time so let's go!
Big Brother 18 – Round 3 of Premiere Competition:
Who do you want to see eliminated from Team Nicole tonight? They've got an island themed competition ahead where it looks like they'll be climbing up and down a palm tree to collect 15 coconuts then place them on the SOS wobbly island below them and then grab a flag.
Glenn is having trouble and can't get one of the far out spots. There are 5 spots to fill in each letter. Tiffany is in the lead and now Glenn is catching up with Nicole and Corey.
Wait, wait… Nicole takes the lead and finishes first! The three newbies remain and, shockingly, Tiffany says she's freaking out.
Tiffany is safe! Now it's down to Corey and Glenn who both have all their coconuts in place and must now rescue their flag to be safe… It's so close! Big Brother says it's a photo finish and Corey wins. Glenn knocked several coconuts loose when he went for the flag.
Glenn Garcia has been evicted from Big Brother 18!


Big Brother 18 – Week 1 HoH:
One of the surviving three members of Team Nicole is about to become our first Head of Household for BB18. Two will have to be willing to yield to the third for this decision to be made.
Nicole is working on Tiffany and Corey to get them to hand over the power and they agree!
Nicole Franzel is the new and first Head of Household for Big Brother 18!
Back inside Paul is throwing a fit at Corey about giving Nicole the power. Corey is getting worried. Terrible strategy, Paul. Now if Corey is worried enough he may suggest to Nicole to get Paul up and out with her noms.
Nicole is working on her plan for noms when Victor first reveals to her that Jozea is coming after all the Vets. Then Jozea tells Da'Vonne that he's coming after all the Vets, minus Day of course. Well that makes this choice easy, but who goes up with Jozea?
I thought Paul would get himself in to this mess but instead Nicole decides to go with Paulie as a pawn. As it was pointed out on Twitter, Nicole only knows how to play with pawns in the Battle of the Block. This is a terrible plan, but Paulie agrees to it. Nicole should have instead put up two solid targets and been happy with either one leaving. Terrible plan.
Big Brother 18 – Week 1 Nominations:
There's a new twist competition coming up soon and it'll be part of Sunday's show, but that also means we'll get those spoilers soon thanks to the Big Brother Feeds!
Once tonight's episode ends on the west coast we'll be jumping on the Live Feeds launch for the Big Brother 18 season. You can get one free week of Feeds here so click below and sign up now:


Want more? Download our Big Brother App, join us on Facebook & Twitter, and get our Email Updates.