We have the latest spoilers and results for who was voted out last night on Big Brother 18 as the HGs prepare to head inside the Diary Room before expecting to compete for Head of Household in what could be another pivotal week for these Big Brother Houseguests.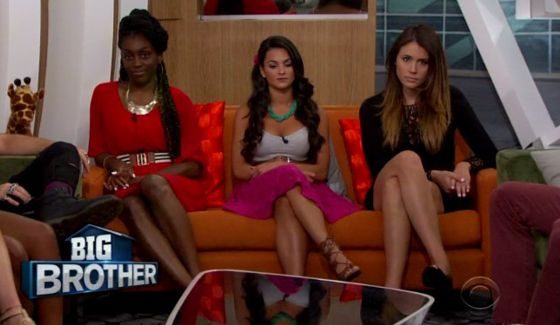 By the end of the night we were set up for Friday's special Big Brother episode (8/7c) featuring the Battle Back twist that would send one of the first five evictees back in to the game following four rounds of competition. Of course that's Friday's fun and we've already got plenty to keep us busy so let's get to our Big Brother eviction show.
Ready to find out who was voted out and who took control next? Here is our live recap for Thursday with the latest BB18 results. You can download our Big Brother App, find us on Facebook & Twitter, and get our Email Updates so you never miss anymore Big Brother spoilers all summer.
We've got Da'Vonne as the new addition to the Block along with Natalie and Tiffany, this week's main target. Try as Tiffany did this week, and boy did Frank try even harder on her behalf, it looks like her game is about to slip away from her. Well, unless she wins her way back in which would give us lots of drama!
Frank was still working hard to lock down some votes and support before the Feeds cut tonight, but things didn't look good and I do think we'll see Tiffany voted out by a strong majority. Once that's over the HGs will head out to see what must be a massive competition considering the backyard has been locked down for two days already!
Speaking of the Feeds, those are down until Friday night after the Battle Back show so settle in for a lot of waiting and plenty of ridiculous, fake rumors to spread. We'll keep you up to date though on any real, factual updates though.
Big Brother 18 Week 4 Votes:
Michelle votes to evict: Tiffany
Zakiyah votes to evict: Tiffany
James votes to evict: Tiffany
Nicole votes to evict: Tiffany
Frank votes to evict: Tiffany
That's enough votes.
Corey votes to evict: Tiffany
Bridgette votes to evict: Tiffany
Paul votes to evict: Tiffany
By a vote of 8-0, Tiffany Rousso has been evicted from Big Brother.
Julie just announced that while the HGs have all been playing in teams and with the Roadkill comp, that's "all about to change." Maybe it's all over! Yes! Julie Chen confirms the twist is over. Not only the teams though. Julie also reveals Roadkill is over and gone. We're back to two noms a week.
Big Brother 18 Week 5 HoH comp:
No HoH comp tonight! It'll be held off until after Battle Back. All the results on Sunday!
Lots of big events coming up this weekend with the Battle Back, HoH, noms, Roadkill results, and Veto comp so before to check back in with us over the next few days for more spoilers as we go.
Normally, when tonight's episode ends we'd be racing back to the Big Brother Feeds to watch tonight's eviction & HoH fallout, but remember the Feeds will be down until Friday 9PM PT. We'll be ready to watch when they return and so should you! Join us on there with the Live Feeds' Free Trial & see what the fuss is all about.