It was another tense show for Big Brother 18 as we watched to see who was voted out last night when a blindside hit the house and HGs scrambled to take control with the next Head of Household comp.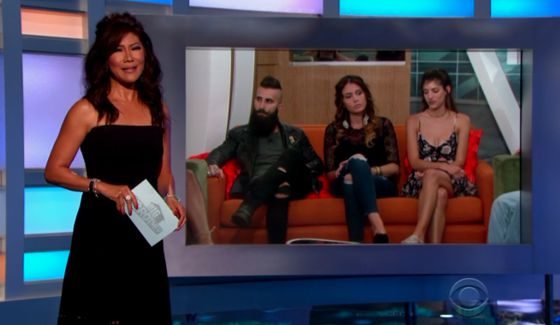 It had been a bumpy few days and tonight should only get better as we're expecting some great drama to keep us going through the live eviction show and beyond in to this week's Feeds. Thursday night Feeds are some of my favorite of the week so you won't want to miss them.
Ready to find out who was voted out and who took control next? Here is our live recap for Thursday with the latest BB18 results. You can download our Big Brother App, find us on Facebook & Twitter, and get our Email Updates so you never miss anymore Big Brother spoilers all summer.
Frank was expecting a landslide against Tiffany and it nearly was a 7-2 vote for her to leave, but not after Wednesday night's vote flip efforts that could land us in nearly the opposite direction! We're about to find out how this all goes with the Big Brother live eviction results.
I'm expecting either a 6-3 or 5-4 vote against Bronte so let's see how close that comes to my earlier eviction prediction.
Big Brother 18 Week 3 Votes:
Frank votes to evict: Tiffany
Natalie votes to evict: Tiffany
James votes to evict: Tiffany
Michelle votes to evict: Bronte
Nicole votes to evict: Bronte
Zakiyah votes to evict: Bronte
Corey votes to evict: Bronte
Paulie votes to evict: Tiffany
Da'Vonne votes to evict: Bronte
That's enough. She's been evicted.
Bronte D'Acquisto has been evicted by a vote of 5-4.
Houseguests were shown a series of images on Wednesday night that they expect to see again in this competition. If that happens we should get a True/False comp to decide the new HoH. Time to find out who has the best memory!
Big Brother 18 Week 4 HoH comp:
Round 1: James, Paul, Zakiyah, Corey, & Natalie eliminated
Round 2: Everyone got it right
Round 3: Tiffany, Michelle, & Da'Vonne eliminated
Round 4: Nicole & Frank eliminated
Paulie wins HoH! All of Team Frank is safe: Frank, Bridgette, & Michelle all join him with safety this week.
Lots of big events coming up this weekend with the noms, Roadkill results, and Veto comp so before to check back in with us over the next few days for more spoilers as we go.
When tonight's episode ends we'll be racing back to the Big Brother Feeds to watch tonight's eviction & HoH fallout! Join us on there with the Live Feeds' Free Trial & see what the fuss is all about.