Tonight on a special episode of Big Brother 18: Frank learns a hard lesson on sexual harassing women who aren't his Nanna.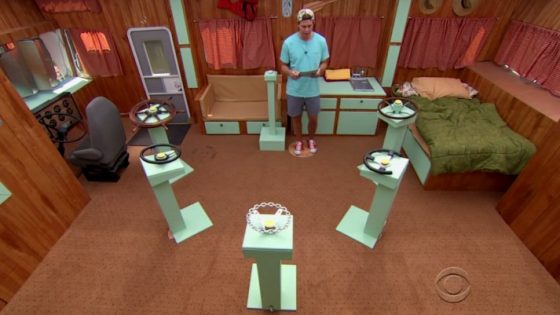 Before we get to all the Frank you can handle, let's start at the beginning. The episode picks up right after Bridgette won Head of Household. And by Bridgette, I mean Frank.
And Da'Vonne knows that as well. "Bridgette being head of household is almost the equivalent of Frank being head of household. There's no telling what he'll put in her head."
And it takes Frank no time to get to work. Bridgette has no idea what to do and Frank sees his opportunity. But really, Da'Vonne shouldn't be that upset since Frank actually thinks they're working together and has the power to keep her safe. But Day and Zakiyah are both worried because they don't have a relationship with Bridgette.
Frank fills in Day and Paulie that Bridgette is clueless so he's going to get her to put up Tiffany and Bronte. They realize that Bronte is her best friend and surely isn't that wrapped around Frank's finger so Frank says maybe it'll be Tiffany and Paul.
Tiffany realizes that everyone knows Frank is her target and she starts sweating. So she's trying to figure out how to not be her target.
Now it's time for the segment where Grodner tries to show us that Frank is a prankster and not a douche. Wait, maybe Grodner was off this week because they're showing us everything. His remarks to the women, his touchy-feely-ness and just the general meatheadedness.
And just when you thought the Who Wants To See My HOH room segment was gone, we get to see Bridgette's. Oh yay, thanks Big Brother! Just what I wanted to see!
Luckily Bridgette's HOH reveal is overshadowed by more of Frank's chauvinism. Da'Vonne and Nicole are so angry at him. Day is brought to tears and says she's trying to keep her mouth shut this season after her mouth getting her in trouble last season, but she's at her wit's end. She was one of Frank's biggest fans, she says, but admits she understands why Big Brother 14 players wanted him out.
And then Frank goes one step further and hits Day on the butt. And she's again brought to tears. And rightly so. Frank comes in and realizes he's seriously messed up. Day goes to the Diary Room just to get away from it. She tells us that she doesn't want her daughter to see that happen and think that it's OK for guys to treat women like that.
Oh here we go. Here comes the Frank isn't a bad guy edit. Frank lets James know that if he pinches your butt it's because he feels close to you. He says he pinches his mom's butt and his nanna's butt. Oh, thank goodness that's all it is. Phew.
Frank apologizes to Day and tells her that he doesn't want to offend someone he feels close to. Day tells us she has to go along with his apology because he's running the game this week but she's still going to "get his ass next week."
At the nomination ceremony, Bridgette makes Frank's nominees of Tiffany and Paul, so no shocks there. But she does let them know that the can come up and talk about it over Hot Cheetos. She tries to explain to us in the DR why she nominated Tiffany, but we all know, girl. Don't bother.
Showmance alert: James and Natalie. Who would've thought. Go, James!
But enough of that, it's time for more of the very special Big Brother Frank episode. During this half of the episode, Frank continues to repaint that negative picture of him by winning the Roadkill competition. Awwwww. There's that America's Favorite Player no one actually voted for in BB14!
Frank buys himself some time by letting his alliance know that he won Roadkill and will be nominating Bronte in the third spot. And that's what happened.
Click images to view larger