Our latest poll is open for this week's Big Brother 18 popularity contest where you can vote up your favorite Houseguests of the 2016 season. We've also got our results from last week so we can make our new rise and fall comparison of the summer.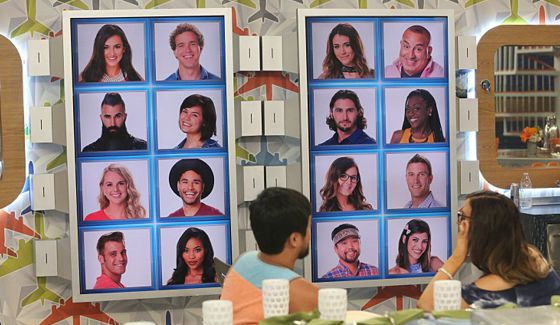 Once again all sixteen Houseguests are here in the poll so even if they've been voted out you can still support your favorite.
With all the craziness of Monday's secret room twist I lost track of our popularity poll so we're a few days late, but we won't miss this week's installment of votes.
We've got our results from the last round of voting and sure enough James continues to dominate the top position by a huge lead. He has more than twice the votes of the next Houseguest, Nicole, with Frank just a few percentage points behind her. Da'Vonne is the lowest ranked Vet in fifth place with Paulie in between her and the rest of the returning players.
The new top ranked true newbie, a non-returning player or a sibling with built-in fan base, is Paul and he's in seventh after climbing one spot. Speaking of climbs the biggest improvements this week go to Tiffany with a four-rank raise, Glenn with three-rank increase, and Frank climbing two spots.
The biggest drops this round go to Corey and Zakiyah who fell three spots each along with Bronte who dropped two spots to be second to last.
And just as James has been the top spot each week the bottom scraper yet again is Jozea who has kept his last place streak alive all season long. Impressive.
Check out the full results below and then be sure to scroll down, vote for your current favorite Houseguest, and then scroll a little more to tell us why you made that pick.
Big Brother 18 Popularity Poll Results – Wk 4 vs Wk 3:
Vote here to support your favorite Houseguest for Week 5 of Big Brother 18.