Nicole has spent the past week coordinating plans with Paul to get to the Big Brother 18 F2, but those plans might not be for the both of them anymore after what we've been hearing with possible spoilers in Nicole's whispers tonight on the Feeds.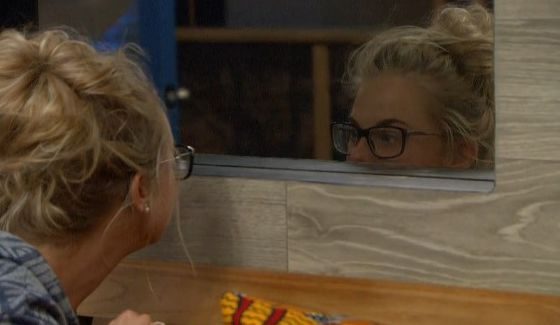 After days of Nicole courting Paul's Friendship it looks like the party is over. I'll admit the whole thing never made much sense as Paul was hellbent on blocking James from F2 because he didn't like him, but Nicole saying she'd rather "beat the best to be the best"? Well, it seemed fishy for a reason.
Flashback on your Live Feeds to 5:30 PM BBT 9/20 Cams 1/2 (get the Free Trial now).
Nicole is alone in the Lounge as Paul has just been called to DR, likely for his comment about a side bet for how their F2 Jury votes will turn out. She was busy telling him how much he'll beat her by while he disagreed. So what comes next shouldn't be a surprise.
"Oh my gosh, this is going to get hard. Crap, I don't know. What do I do? See, it's like I would have taken my ride or die. Absolutely. I would have taken Corey no matter what," says Nicole before going on to count votes. She's going through the Jury for if she's sitting next to James, not Paul. She counts off Corey, Paulie, and Victor as her first three votes "for sure." Paul returns and her counting ends.
Jump forward to 6:06 PM BBT as Nicole sits alone in her corner bed spot. She whispers that she can't beat Paul, doesn't have a chance sitting next to him, and even she would want to vote for him. Nicole also whispers that she wants to keep "him as unprepared as possible." Presumably here she means James so he doesn't prepare a speech as he hasn't done so yet. This fits with why she's been dodging him so heavy all week when he's tried to ask her about getting to the end together.
Move forward a few more minutes to around 6:12 PM BBT to hear Nicole whisper, "He knows I'm not taking him. He's not dumb. I don't think he'd take me so I don't know why I'm feeling guilty." She says this just after Paul has walked through the room. This also wouldn't make sense for her to be referencing James since he won't be playing in R3 and doesn't have the chance to not take her to F2 anymore.
So there we go. Paul has to win his way out with a fourth straight comp win or he'll most likely be cut a step shy of the F2. Should he win then I do expect him to still take Nicole as he has no idea she's making these plans. If Nicole wins instead, then I expect her to flip on her F2 deal with Paul and take James instead. Betraying deals is what she's been doing all season and she must know it so it's strange that she can't figure out the "snake" comments, but it's also her much smarter move here. I don't think she can beat Paul, but if he's bitter this could be a problem.
Later on, around 6:50 PM BBT, Nicole is counting votes again for her being up against James. She says she'll need Victor and Paul's votes to beat James. Victor was mad at her for the betrayal, but he was also getting over it by the time he left. I wouldn't be surprised if he was still willing to vote for her. Then considering how much Paul dislikes James's game I wonder if he'd have such a hard time voting for James that she'd still get his vote.
What do you think of Nicole's latest strategy sessions? Is she just doing this for the cameras or is she really planning to flip on Paul and take James instead? It seems like she speaks louder when she says things like not knowing what to do than when she's actually discussing taking James.
Do you want Nicole to pull off that R3 win and cut Paul and what do you think he'd do if that happens? Would she still have his vote? Share your thoughts below as we get ready for Wednesday night's season finale of Big Brother 18!