Nicole Franzel can't seem to make up her mind with what to do about Da'Vonne Rogers, a fellow Vet HG on Big Brother 18. One day Nicole trusts her, the next she wants her out. Now we're back at the latter in a talk yesterday with Frank.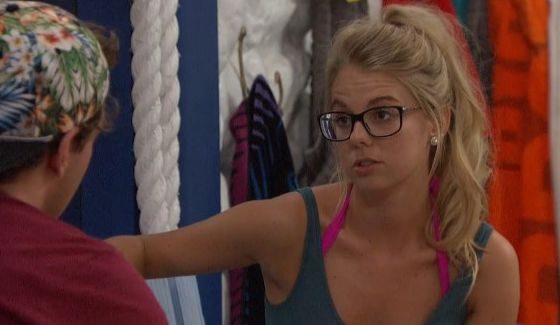 Speaking privately with Frank we watched as Nicole expressed long standing concerns with Da'Vonne and Frank continued to try and build their trust between each other for what needs to be done next.
Flashback on your Live Feeds to 4:08PM 7/11 Cams 1/2. Get the Free Trial now to watch.
Nicole is telling Frank that she's worried about Da'Vonne. Actually she just hints around at who it is since she's worried about saying Day's name out loud. Nicole is that fearful of plotting against her.
Frank says if they're going to get Da'Vonne out then it needs to be done fast because if she discovers it was them and then gets to Jury it'll damage their chances at winning.
Despite what's been going on around him Frank remains unaware and suggests that Da'Vonne probably wouldn't put him up. He asks Nicole what she thinks about that. Nicole lies and dodges the question. She knows Day wants Frank up and out.
Frank also tells Nicole that Da'Vonne told him at the start of the season to go to Nicole and propose a F2 deal to block Nicole from trying to make one with James. Nicole speculates Day might have wanted her own F2 with James instead. Frank counters that Day was more concerned Nicole would be the "New Meg" and cause problems for them down the road. Nicole says she won't be anyone's Meg and she's here to play.
Nicole is on board with targeting Da'Vonne and getting her out soon. In fact, Nicole says she's been worried about Da'Vonne since Day 3 in the house. She is cautious though and adamant that Frank not include her name in any talks with other HGs when proposing this idea.
Nicole isn't sure how to best get Day out, but Frank says he knows. Roadkill. He wants to use the secret nom to make this happen. Frank believes he could get numerous HGs to use the RK nom against Da'Vonne if it's not one of them who wins it.
Interesting comment here from Frank. He says he was getting worried about Da'Vonne but then she came to him with details about Tiffany being after him. Remember that the whole Fatal Five plotted against Frank but then Day lied and pitched it to Frank as something that Tiffany was doing on her own. Frank says this suddenly changed his perspective on Da'Vonne and he thought he could trust her. However, when he saw how upset she was on not getting HoH this past week he became very suspicious as to why she needed that power this round.
As an interesting takeaway from Nicole's side of things, this entire conversation is an opportunity for her to tell Frank what she knows. That Day wanted Frank out and she lied about Tiffany. Of course the problem with telling Frank that is she was in on the FF and would be implicated as a result. There's so much Nicole could confirm regarding Frank's fears, but she doesn't. Instead she continues to linger in the middle with the chance to pivot to which ever side takes action first. Or maybe she lingers long enough to get burned by both sides when they realize what she's been saying and doing.
What do you think of Nicole's continued back and forth on her Da'Vonne stance? One conversation she's fearing Day and the next she regrets having ever doubted Day. One of these weeks she's going to have to make up her mind. Which way do you think she will finally settle on going?