Veto Meeting day arrived for the Big Brother 18 Houseguests as they got ready for the next round of Drama. Da'Vonne was ready for her close up and the petty arguing didn't take long to follow. We've got days of this ahead of us so settle in.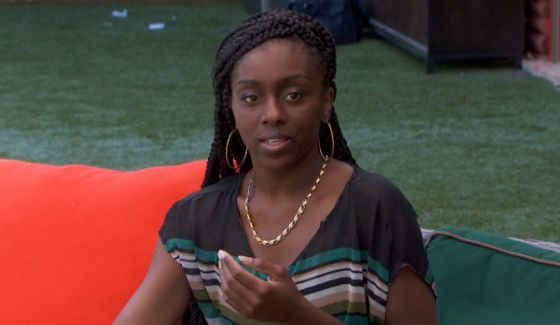 If you've got the Live Feeds (Free Trial) then you can watch all of these moments with the Flashback feature to go back and watch those important conversations or funny scenes you may have missed.
Big Brother 18 Live Feed Highlights – Monday, July 18, 2016:
9:14 AM BBT – Nicole & Corey appear to be getting physical with handy work under the covers. Cams 3/4.

9:30 AM BBT – HGs are starting to get up for the day.

9:35 AM BBT – Zakiyah tells Nicole she's falling for Paulie, but they still haven't kissed.

10:15 AM BBT – HGs lounging around and chatting as they await the Veto meeting. Not much going on but HGs are up and active.

10:50 AM BBT – Frank expects a returning player along the way this season.

11:50 AM BBT – Feeds are back from the Veto comp. Da'Vonne has been renom'd as the RK nominee. Corey used the PoV on himself.

11:55 AM BBT – HGs discussing Da'Vonne's behavior during the meeting. Day told Natalie the two of them looked beautiful as a dig at Tiffany. Day also whipped her hair at Tiffany to try and hit her with it. Day says Frank was expecting a bigger reaction out of her, but he's not going to get it. (The week is young.) Day, Michelle, and Zakiyah are talking loudly and rudely about Tiffany while she's outside.

12:00 PM BBT – Tiffany wants to complain to DR about Day whipping her hair to hit her. Frank doesn't think they'll do anything.

12:20 PM BBT – HGs outside sunning by the pool. Everyone is relaxing.

12:45 PM BBT – Tiffany sits with Frank and Bridgette to go over possible votes. Frank says he wants to try and get Michelle's vote. He wonders if they can get 7-1 for the votes. Tiffany says if Frank can do that then he'll have earned her vote if he makes F2.

1:15 PM BBT – Tiffany feels frustrated that she played a clean game. Frank blames Da'Vonne for Tiff's troubles. Tiffany confirms she complained to DR about Da'Vonne whipping her hair at her.

2:25 PM BBT – Bridgette compliments Corey and what appears to be something going on with Nicole. Corey downplays it and says nothing is happening with Nicole and they're just friends.

2:30 PM BBT – Zakiyah is upset about Natalie being around Paulie. Natalie asks Paulie if he'd date Zakiyah outside of the house, but he isn't sure. They discuss past relationships and each knows someone the other dated.

3:15 PM BBT – Michelle is upset with James. He said he'd talk with everyone while she wanted to shun the outsiders. Michelle took offense and ran away to another room. James went and profusely apologized for making her feel bad.

3:45 PM BBT – Michelle suggests to James that Natalie is flirting with guys for votes. He's hearing that Natalie called Corey sexy. James is feeling awkward about Natalie and feels like she's withdrawn.

3:50 PM BBT – Nicole admits she has a huge crush on Corey and she's met her dream man.

4:10 PM BBT – James thinks this season is a lot harder than last and HGs aren't as nice to each other.

4:25 PM BBT – Da'Vonne says Paulie studied Vanessa's game and can predict what Tiffany is going to do next as a result.

4:30 PM BBT – Natalie is upset with James for not coming to talk with her sooner about things bothering him.

4:40 PM BBT – James is disheartened and talks with Paulie about the talk he just had with Natalie. James thinks it's over.

4:45 PM BBT – Tiffany asked Bridgette to tell her things the other HGs have said. Bridgette discusses how she wears sunglasses inside. Tiffany exchanges what she's heard of Bridgette too including how Michelle doesn't like her and thinks she's fake. Neither are too happy with their fellow HGs.
Things are calm at the moment after some heat following the Veto meeting. The real drama this afternoon was with these relationship woes, a low priority on the Big Brother scale, or at least they should be. Hopefully we'll get back to the campaigning side of things soon.
You can watch all of these Big Brother events using the archives Flashback, the DVR-like feature of this year's Live Feeds which means it's always live, even when you missed it! Sign-up now to get the free trial to watch it all live & uncensored.

click images to see full-size