Tuesday started out with Houseguests trying to decide which way to shift their votes and nothing seems final just yet for this week's Big Brother 18 eviction. Before too long the HoH camera was out and the sun was shining just right for a day at the pool.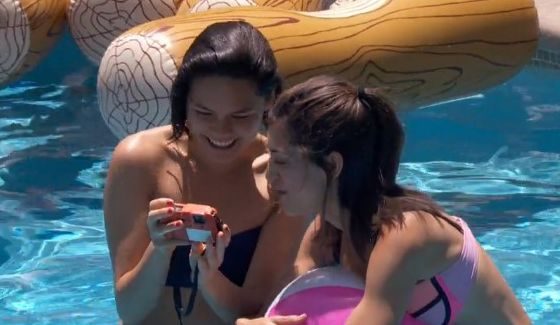 If you've got the Live Feeds (Free Trial) then you can watch all of these moments with the Flashback feature to go back and watch those important conversations or funny scenes you may have missed.
Big Brother 18 Live Feed Highlights – Tuesday, July 12, 2016:
8:00 AM BBT – Tiffany is up and wandering the house doing some cleaning which desperately needs to be done.

9:15 AM BBT – James is up and Tiffany talks with him about the vote. She tells him Frank won RK. James acts surprised. Tiffany promises James she'd be a strong asset and they could work together. Tiffany feels good that she has four solid votes and needs only one more. She's asking lots of questions and he's doing his best not to lie or tell her the truth.

9:35 AM BBT – James reports back to Day that Tiffany thinks she has four votes. Da'Vonne says they need to stick to the plan and get out Tiffany so they can focus on Frank next week. If they don't get Tiffany out then Frank will know things are falling apart and he'll be alert to their plans.

9:45 AM BBT – James says he'd vote to keep Tiffany if they had enough. Da'Vonne agrees. Michelle is there and seems to be going along with the plan. Day worries that Nicole and Corey might go back on any promises to keep Tiffany.

10:05 AM BBT – James wants to talk with Nicole and Corey to see what they can make happen. Day says she'll get Tiffany to go Nicole and work on her.

11:20 AM BBT – Frank and Bronte are relaxing outside chatting about the house and HGs.

11:50 AM BBT – Frank explaining the Double Eviction to Bronte. She's getting lots of details from his season and his frustrations with Dan.

12:15 PM BBT – HoH camera has arrived.

12:50 PM BBT – Powerpuff girls taking underwater pics.

1:45 PM BBT – Lazy day by the pool for these HGs.

1:55 PM BBT – Tiffany checks in with Nicole to see if she still has the numbers. It's hard to hear but Tiffany thinks she's still safe.

1:58 PM BBT – Nicole is worried about Corey being on slop. He's not eating anything and is only drinking coffee.

2:51 PM BBT – Tiffany asks Paulie if he's heard anything about the vote. He tells her nothing since what he heard initially. She tells him that James, Michelle and Day will keep her. She says it makes sense that Nicole and Corey will keep her. And she implies that Paulie would keep her since they've been on the same side. He says "yeah." She wonders if she should talk to Frank. Paul tells her it's her call. He says Frank doesn't talk to him about what his voting plans are. "He's so sketchy," Tiffany says.

2:53 PM BBT – Tiffany tells Paulie that if they keep her she's another person to go after Frank next week. She tells Tiffany that whatever those guys want she'll do. She'll do anything they say.

3:32 PM BBT – Da'Vonne telling Michelle that she told Tiffany to socialize but she decided to clean instead. She said these people are going to send her home. Day wants to keep Tiffany now. She said she told Tiffany to go to Nicole to ask for a sympathy vote so that she could have enough votes to stay.

3:44 PM BBT – Day asks Michelle when it became OK in Big Brother to have a showmance. They talk about how crazy it is that everyone is OK with all the showmances and think it's cute instead of a threat.

3:57 PM BBT – Tiffany tells Day that she talked with Paulie and that they agree to vote out Bronte. She asks Day if she should believe them. Day just sighs. Tiffany asks Day what her gut tells her. Day said she doesn't know because last year people looked her in the face and told her they were keeping her and only Audrey and Jason voted to keep her. Day asks her way HER gut feeling is. She says she hopes she can trust them.

4:00 PM BBT – Tiffany asks Day about how she feels with Corey/Nicole/Z/Paulie. Day says she feels like she's on the outskirts of that one.

4:03 PM BBT – James asks Paulie if Tiffany is who he wants to go home. James asks because they decided on her because she was going after Fran but now that's not an issue since everyone wants Frank out. Paulie says yes because Tiffany could blow up the game of Paulie, James and Corey. James said he wanted to make sure the target is Tiffany for their own reasons and not Frank's reasons. Paulie says stick to the plan: Tiffany then Frank.
So later in the day Tiffany's nerves got to her and she started campaigning a bit. She seems to have Da'Vonne on her side now, but it's not clear what everyone else is actually thinking. Things should be interesting the next couple of days.
You can watch all of these Big Brother events using the archives Flashback, the DVR-like feature of this year's Live Feeds which means it's always live, even when you missed it! Sign-up now to get the free trial to watch it all live & uncensored.

click images to see full-size