Alliances continued to unravel in the Big Brother 18 house, but not in ways they normally unravel. Most people still think their alliances are solid, but they're anything but.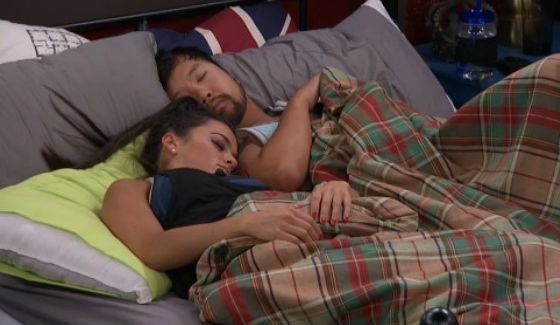 With HGs sleeping in until almost 1PM BBT we ended up rolling these all in to one long Highlights Report for Wednesday.
If you've got the Live Feeds (Free Trial) then you can watch all of these moments with the Flashback feature to go back and watch those important conversations or funny scenes you may have missed.
Big Brother 18 Live Feed Highlights – Wednesday, July 6, 2016:
11:15 AM BBT – Paulie and Corey are first HGs up. They're discussing Frank's situation and what they need to do and who they can trust.

11:25 AM BBT – Paulie mentions Zakiyah was proposing a 5-person alliance with him and Corey plus Nicole, Day, and Zakiyah.

11:30 AM BBT – Paulie suggests they could get rid of HGs who would support Frank then get him out when he's weak.

11:50 AM BBT – Paulie upset that Frank supposedly told Zakiyah not to trust Paulie. Paulie says his word is good.

11:55 AM BBT – Paulie does worry that if Frank goes next they'll be down to 8 women and 4 men, which makes them very vulnerable.

12:20 PM BBT – Corey relents and says maybe they do need to get Frank out next week before Frank makes a move to try and get one of them instead.

12:45 PM BBT – Few HGs trying to stand upright and move around the house. The struggle is real.

1:00 PM BBT – Da'Vonne and Zakiyah talking about the Frank situation. Zakiyah relays her talk from last night with Paulie. She likes his idea to take out Frank's supporting votes then get him when he's weak on the Block. They discuss their new alliance: Day, Zakiyah, Paulie, Nicole, and Corey. Michelle would be their tag along for when she was needed.

1:20 PM BBT – Paulie tells Corey they should send Bridgette home before Brone since Bridgette would more likely be a vote for Frank than Bronte would.

2:00 PM BBT – Zakiyah and Nicole talking the idea of their new 5-person alliance. Zakiyah notes how close Corey and Paulie are getting and trust each other.

2:45 PM BBT – Corey and Nicole discussing the Frank/Day situation. Nicole doesn't trust Day.

2:50 PM BBT – Da'Vonne is crying to James. She doesn't want that 5-person alliance. She wishes the Vets had stayed together. (Didn't she just spend the past day breaking up the Vets??)

2:55 PM BBT – Nicole says she will put Da'Vonne up if she wins Roadkill.

3:00 PM BBT – Day wants to get Nicole back from Corey's grasp. James says Derrick warned him to break up showmances if they appear in his alliance.

3:15 PM BBT – James tells his team they are going to fight hard for HoH this week and then it'll go to Natalie.

3:30 PM BBT – Nicole and James talk game. She's worried about Frank and whether he's actually trying to get her and James out. James is very surprised to hear that.

4:15 PM BBT – Natalie having her daily "I'm over Victor" talk. She's over him, but will be sure to talk about it more tomorrow.

5:20 PM BT – Michelle detailing how she wants Bridgette out.

5:45 PM BBT – Paulie, Corey, and Tiffany discussing distrust for Frank.

5:50 PM BBT – Natalie reiterating her desire for a woman to win this season. Bronte promises Nicole she wasn't coming after her and they promise each other safety.

6:15 PM BBT – James warns Frank that their alliance is crumbling and he should watch out.

6:15 PM BBT – Paulie tells Corey to watch out for Tiffany and what he tells her.

6:25 PM BBT – Nicole, Corey, and Paulie discuss the Day and Frank situation. Nicole says she won't worry about Da'Vonne if they aren't worried. They discuss options for Backdooring Frank next week.

6:45 PM BBT – Natalie again talking about Victor and how she's over him, but she's going to throw a party when he's evicted. This is all over him shutting down their showmance soon after they moved in.

7:00 PM BBT – Frank working on Michelle and Nicole about getting Tiffany out before Jury. Michelle wants Bridgette out first and offers a trade, but Frank says she's missing the point.

7:35 PM BBT – James and Natalie lounging in bed and flirting. She tells the camera over and over that they're just really good friends.

8:20 PM BBT – Da'Vonne tells James maybe they will need Frank after all.

8:39 PM BBT – Z, Michelle and Nicole discuss James telling them that Frank said he sees people breaking off into smaller groups. They agree to just stay in deny mode.
Things picked up even more in the second half of the night with Tiffany and Da'Vonne making their own plans to work on evicting Frank and moving forward. Read on for more.