We still haven't had our first eviction vote of Big Brother 18 but the Houseguests who know the game better than the rest are looking far out ahead and planning for the days and weeks ahead.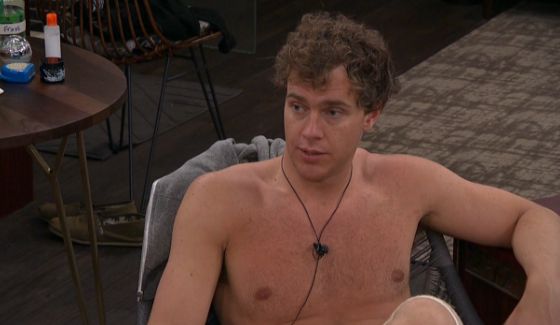 This afternoon Frank and Da'Vonne met up in the HoH room to reaffirm what needed to be done this week and their best options for the next several weeks. Some of those plans even include an ally on their list that they're willing to cut to move forward.
Flashback on your Live Feeds (Free Trial) to 4:10 PM BBT to find Frank and Day upstairs alone.
First up is Day's concerns over Zakiyah and Paulie getting way too close and flirty recently, but she doesn't want to lose her ally in Zakiyah. Frank isn't quite ready to get rid of Paulie and suggests they'd do better to stick with the plan of Jozea this week then Victor followed by either Bronte or Pauli.
Day is worried that the longer Paulie stays the worse it'll get for Zakiyah getting entwined with him. She wants to protect Zakiyah, but not at the risk of her own game over their potential showmance. Frank says they can get Paulie out to stop the showmance, but they need to stick with their larger targets for now.
Should either of them get the Roadkill win again then using Paulie as a pawn wouldn't be such a bad idea, Frank suggests. They might even use him as fodder for the other side.
click images to see full-size views
Frank thinks that with Victor and maybe even Bronte gone then they'd be able to get Paul for themselves. Wow, can you believe Frank is contemplating scenarios with using Paul while ditching Paulie? Maybe he's just placating Da'Vonne, but if her concern is that she's losing her ally in Zakiyah to Paulie then shouldn't Frank have the same reverse concern? Don't do the showmance, kids, just don't do it.
As far as Victor's nomination, Frank wonders if he would lose his head if that happens. He doesn't want to see someone go over a forced removal, but says he'd take it. As far as breaking Victor, Da'Vonne's plan is, if she gets the chance/choice, to put Team James on Have-Nots so she can weaken Victor as much as possible. Not a bad plan.
What do you think of the Vet's hit list? Do you think Frank would really cut Paulie loose this early or does he secretly want to keep him around for the long run? Jozea, Victor, and then Bronte. They could do it, but that's a lot of perfect weeks in a row to keep control. Better not count those chickens too soon.