After a few days of watching Da'Vonne Rogers in the Big Brother 18 house plotting her big moves against Frank Eudy things sped up today on the Feeds as she has put her plan in high gear.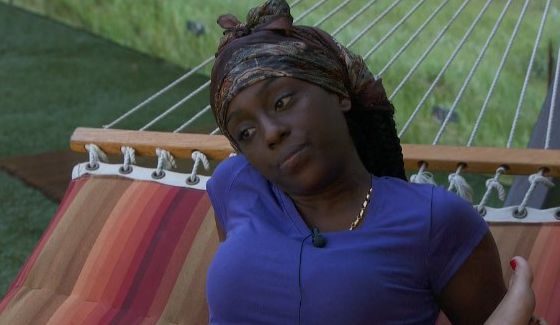 With the bug in Frank's ear that he needed to target Tiffany for immediate eviction it was time to set the other side up for a balanced fight but now it looks like she'll be standing next to Tiffany to target Frank.
Previously Da'Vonne had convinced Frank that it was Tiffany and Tiffany alone who was coming after him even though it was the whole Fatal Five alliance. Da'Vonne planned to put the full blame on Tiffany if they were busted in the process. This afternoon Da'Vonne had a new plan.
Flashback to 2:10 PM BBT 7/5 on your Live Feeds (get the Free Trial).
Da'Vonne and Zakiyah are discussing how they need to take Frank out immediately. No time to waste. Here's what Da'Vonne suggests: they need to get Corey to win HoH, then they'll fight for Roadkill, win Veto, and get Frank on the renom for a Backdoor.
Next week there will be nine votes so five will do it and that's the Fatal Five in action with the votes to evict Frank. They want Corey as HoH because if they use one of their own then that member of the FF can't vote.
Day also discusses that if they can't get Frank out then maybe they should force him to be HoH so he can get "blood on his hands" because, yeah, that'll show him! These are two very different plans, but I didn't hear her mention this one again so it's probably out.
Jump ahead to 2:40 PM BBT as Nicole is now warning Corey that Frank has F2 and F4 deals with everyone around the house. She lets him know there's a plan building to evict Frank but he has to promise not to let this get back to Frank or they're toast.
At 3:30 PM BBT we've got Nicole going back to Da'Vonne and agreeing that it's best to get Frank out quickly. Nicole believes she can convince James to join their vote party, but thinks Michelle will be a hard sell. This would let them swap James vote in for Michelle's if she's not willing. But wait, there's more!