It's time for Da'Vonne Rogers to start getting worried about her chances this week on Big Brother 18. Well she should have started worrying days ago, but the clock is seriously ticking and a quick vote tally last night should have really put the fire under her feet.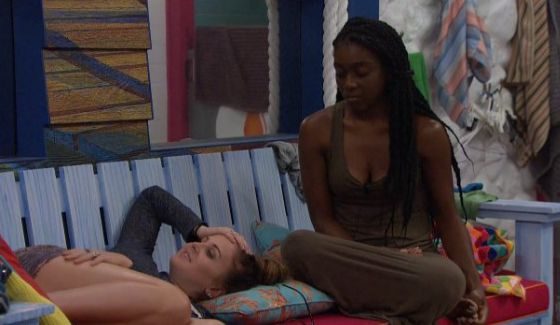 Sitting down with Michelle and Zakiyah the three of them went through who would for sure be voting to keep Da'Vonne over Bridgette. It was a short discussion.
Flashback to 12:44 AM BBT 8/2 Cams 3/4 to listen in on their talk.
Natalie has just left the bathroom when Michelle asks Da'Vonne if she knows how Natalie will be voting. Da'Vonne expects Natalie to "vote for her friend," that being Bridgette. Michelle is frustrated and doesn't understand why Natalie would do that. Why wouldn't Natalie do that?
Zakiyah says she wants to know how everyone is going to be voting, then suggests they know how it's going to go. Heh, yeah, Zakiyah and Michelle do know, but they're not warning Da'Vonne like they should. Da'Vonne responds to Zakiyah, "I thought it was going to be no question. Then all of a sudden I'm hearing…" Danger, Da'Vonne. Danger!
Zakiyah reassures Day saying "me and Meech for sure." Well that's only two of the four you need for a tie this week or of the five you need to make it a sure thing. Zakiyah's list ends there. Da'Vonne nervously laughs. Zakiyah says she wants to figure it out "because people are flaky." Wake up, Da'Vonne!
Day adds that James will vote to keep her, she's certain of that. I'm not. Michelle advises Da'Vonne to go and talk to James to see if she can also secure Natalie's vote along with his. Day asks Michelle who is she concerned about not voting for her to stay. Michelle doesn't answer that but instead offers that she knows Paul wants her to stay. Well that'd be great if it was a tie, but do you really want to rely on Paul going against his guy allies?
At this point I don't think Paul would tie-break in Day's favor. He's explicitly said he doesn't want things to come to a tie and that's my guess as to why he wants to avoid it.
Michelle continues to mislead Da'Vonne and says that everyone she's talked to has said they want Bridgette out. This is not true. Zakiyah says they'll check around make sure because if the group went against Da'Vonne then she'd be upset.
Guys come back in from outside with their loud, crashing voices and that breaks up the talk. After Paul passes through the bathroom their talk resumes.
Zakiyah starts counting votes again and still only gets to three including James. Michelle again promises Day that everyone has told them they're voting out Bridgette but then says no one tells her anything and she sees the three guys whispering all the time. Sounds like a lot of covering her own behind here and Zakiyah is doing more of the same too. I really don't get why neither of them won't just tell Da'Vonne the truth. She's being targeted, the votes are against her, and she needs to start working the house NOW for any chance at staying.
So how are the eight votes looking to go this week? Right now I'm expecting James to actually go against Da'Vonne along with the rest of the guys. He knows the house has tilted against Da'Vonne and he has to retool his game and get closer to the guys. If he knows Day is going with or without him then he'll adapt to be part of their numbers.
James, Paulie, Victor, Nicole, Corey, and Natalie are most likely voting out Da'Vonne. Extremely likely. Then on the other side we've got Michelle and Zakiyah voting against Bridgette. Michelle might decide to go with the majority, since she knows it's going to happen, but there's no love lost between her and Bridgette so I wouldn't be surprised for Michelle to still vote against Bridgette.
Unless something big happens between now and Thursday, like say Day's allies alerting her and she does a hard press to flip things, then we should get ready to see whether or not Day has that Round Trip ticket on Thursday night.
What do you think of the house's plan? Good move or bad timing to get out Da'Vonne this week?