We're in the final stretch of Big Brother 17, but there's no rest for the weary or Vanessa's deal makings. When the Houseguests returned to the house after last night's comp it didn't take long for Vanessa to hit full speed mode to build more Final 2 deals to eclipse her other F2 deals while looking forward to what other F2 deals she could make later. It's a F2-palooza and everyone is invited!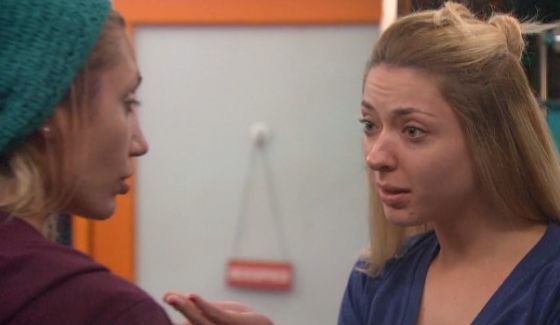 As we're used to seeing, when Vanessa is in a position of strength or control, this time with Round 1 secured, she tends to work even harder. Her latest mission was to lock things down with Liz, as if there was much danger of her trying to strike a deal with Steve. Speaking of Steve, Vanessa has some thoughts on that topic too.
Flashback to 1:31 AM BBT 9/17 as Steve heads in to the Diary Room leaving Vanessa and Liz alone to scheme and plot. Vanessa immediately tells Liz that Steve can't know about their F2 deal. Well of course not. That could mess up Vanessa's F2 deal with Steve. But which one will Vanessa honor?
"I give you my word. I am going to take you," says Vanessa to Liz. "He can not know," states Vanessa. Liz questions whether or not Steve thinks he has a deal with Vanessa. "No!" Vanessa completely denies having a deal with Steve. We know otherwise, of course.
Vanessa warns Liz that if Steve wins this next round then "I might have to make a deal with him," but Vanessa continues to promise Liz that it'll only be a surface deal and she won't honor it. "Obviously, my word is good and you know my word is good," claims Vanessa. Obviously.
Liz assures Vanessa that she herself won't try to make any F2 deals with Steve. That'd just be crazy, right? "I'm not going to go around and pretend to him. It's just not happening," promises Liz. Goodness. It's disappointing but not surprising that Liz wouldn't explore her limited options, but this should make it even easier for Vanessa to work both sides since Liz is unlikely to approach or openly discuss things with Steve. Maybe we'll get a surprise in the coming days, but I doubt it.
Liz is worried about round two, but Vanessa again asserts the next part is physical, not mental. This was the same argument Vanessa made during the endurance HoH competition to convince Liz to drop. Vanessa told Liz in the comp that it wasn't mental but rather physical and she (Vanessa) couldn't win at that but Liz could. Vanessa was working hard at the time to persuade Liz to drop and it should shock no one that Liz complied and dropped after nearly four hours in the battle.