The Nolan twins may have hit the final leg of their run on Big Brother 17, but while other Houseguests have had their eviction decisions handed to them Vanessa wants to change that up.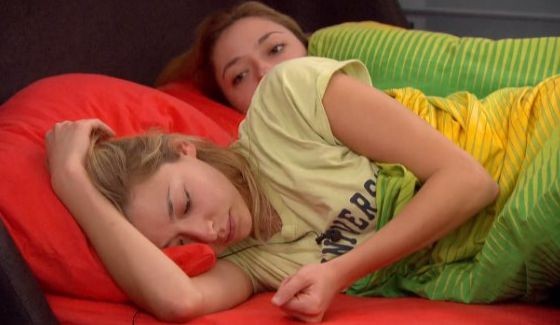 With the Veto competition over the reality of their situation set in as Vanessa worked quickly to make her move and control the week's outcome all the while presenting it as a choice for the twins to make.
Sitting down with the twins Vanessa starts to debate which of them would be the better player to stay as if this is somehow up to them despite nominees having no vote and Vanessa only holding one of the three decision making seats this week. Flashback to 6:05 PM BBT 9/5 to listen to their talk.
Vanessa explains which competitions Julia handles better with things like cardio endurance while Liz is more dominant in things like puzzles and embarrassing her mother on the Live Feeds. Okay, I made the second one up. From there Vanessa tells them that Julia has a better chance at getting to the end since she's weaker but even if she gets there she couldn't win more than $50K. On the other side, Liz is more likely to win $500K, but will have to brute force her way to the end.
Later Vanessa talks with the remaining guys and explains how the twins have asked to decide who stays and who goes this week. Flashback to 8:00 PM BBT. Vanessa tells the HGs she doesn't care who stays and just wants everyone to be happy. How the guys don't laugh in her face is beyond me. Obviously Vanessa has a preference. She's been the only one actively campaigning about it, but the weird thing is she's campaigning in both directions.
Talking with Austin (8:40 PM BBT) Vanessa worked him through the reasons of why it'd be better to evict Julia before switching gears and making the same case for Liz. It isn't easy to keep track of who Vanessa really wants to stay. If she wants a strong ally who now seems at odds with Austin then you've got Liz. If Vanessa would rather have an easy win later and a number when needed then that's Julia. I'm sure she'll make her choice very clear before too long and that's who we'll see stay on Thursday.
As for what the twins want, you can listen in on several more conversations they had throughout the night including their dinner talk at 9:45 PM BBT. Both are crying as Liz tells Julia this will be her time to shine after they started out the game both pretending to be Liz. Liz continues to feel Julia should be the one to stay this week since her staying would continue to make her and Austin a suspected F2 target and too dangerous for their shared chances. Both offer the other the chance to stay if she wants to be the one to continue on. Neither will say they want to stay.
We'll be sure to hear more from Vanessa who later promised the twins she'd give them unbiased help on making the choice that isn't theirs to make. Flashback to 10:59 PM BBT. Vanessa says with a straight face that she's afraid to share her opinion anymore after the drama it caused at the Veto. (Vanessa told Julia to target Austin in the knock out challenge and Austin didn't take too kindly to that.) Vanessa wishes she felt strongly one way or the other but will think it over and tell them in 24 hours or so. Well that should be interesting.
As for whether or not the twins would be the final noms, yes, Steve told John that was his renom plan. Julia will go up on the Block after Austin saves himself and then we'll hear more about the eviction plans from there.
Who do you think Vanessa will choose to keep and then convince the other two votes to go along with? Share your thoughts.