When Da'Vonne Rogers first discovered the Big Brother 17 Twins Twist I thought she'd use this knowledge to give herself an advantage in the upcoming eviction vote. Well, she's finally doing it, but not in the way I expected and only after word had spread through the house.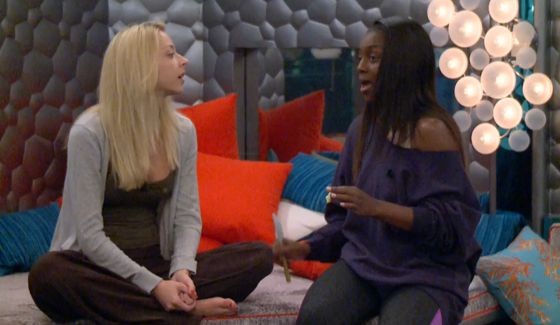 Can a Houseguest apply pressure for support when the threat of information has already flooded the game? I'm doubtful, but Da'Vonne isn't going to let that stop her from making another move in her bid to stay in the Big Brother house.
Flashback to 9:52PM BBT Cams 3/4 (get a Live Feeds Free Trial) to find Da'Vonne sitting down with Julia, Liz Nolan's twin sister. She's about to break the news to her that their Twin Twist secrecy is over.
Day tells her Houseguests are saying "something is going on with you. A group of people are saying you are a twin and they're trying to say periodically you're swapping out." As Day explains the situation Julia sits there patiently listening before finally adding a "whaaaaat?" but it took a little while for her to do that.
Now as for the "group of people" there's no denying Day launched this revelation, and good for her in figuring it out, but now nearly everyone knows and I'm not sure how helpful this could be to her anymore. Day does the best thing she can at this point though and goes straight to asking Julia for her's and Liz's vote (well, one combined vote).
Julia promises Day she has her vote since she protected her with the Fast Forward. Speaking of, boy I bet Day wishes she had used that FF protection on Shelli because I'd wager she would not be in this situation right now if she had. Shelli was still bringing it up just a few days ago.
Da'Vonne warns her that HGs have noticed Liz is more "bubbly" while she, Julia, is more low key. "Get bubbly," suggests Day as she pleads for her to keep this reveal between them. Day is worried that telling her could come back to bite her and push her closer to eviction. Julia says she'll work on getting Austin's vote as well, which might be possible, but overall I do not think it's going to change Day's course at this stage.
Julia asks her who is saying this about her being a twin. Day says she can't reveal that at this point, but they'll discuss it. Of course we know how that happened since Day told Jason and excitement took over leading to a widespread discussion.
So now Julia knows and she'll tell Liz at the next swap out, but you can be sure the twins will be high on the target list for the next eviction. Jason has warned the house that it's likely if they survive the first four or five evictions both twins will enter the game. He's right on the five count which is three long evictions away. I don't think they can make it that long. Do you?