Hurray for Da'Vonne Rogers! She's uncovered the Big Brother Twin Twist featuring Liz Nolan and her twin sister Julia. Now if only she could have put the pieces together just a few hours earlier.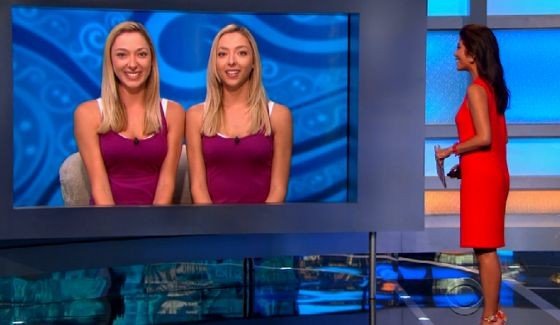 Monday afternoon the twin sisters made their swap and that window gave Da'Vonne the chance to see both faces in a short amount of time. Her immediate reaction to the realization that something was off took her to find Jason where she alerted him to the suspicion. After that the pieces really started to come together.
Flashback to 3:23PM BBT 7/6 Cams 3/4 on your Live Feeds (get your Free Trial now). Da'Vonne goes to Jason in the Have-Not room and tells him to watch her face and the changes in it from day to day. This is true. Julie and Liz have enough difference in their face that it's noticeable in the picture above.

Next the house goes on lockdown and that puts Da'Vonne and Jason on the couches running through details. Flashback to 3:46PM BBT as Day tells Jason that Liz/Julia forgot about throwing a pillow and then tried to act like she remembered. That's just one example.
Day starts running through other details and physical features that are different, including the different amounts of their roots showing and face size again. Jason says he thought it was interesting how production took note that BB5 was his favorite season. That's the original Twin Twist season.
Jason even recalls a conversation from just a big ago this afternoon. Houseguests were recalling their casting process and being grouped with other finalists, some of which are now in the house. As everyone says who they say we hear from "Liz" that she didn't see anyone. That's odd. Was she isolated? Was the other sister going through the process instead? Jason wonders about Liz's comments.
They go on and on while Da'Vonne becomes more convinced and Jason is starting to buy it too. So what does this mean for the Twin Twist? Well nothing yet. Day hopes she'll get a super power if she goes to the DR about it, but that doesn't seem likely. According to Julie Chen, Liz & Julia just have to make it past the fifth eviction. They do not have to go undetected.
Unfortunately for Da'Vonne the Veto meeting is over and Liz didn't go up against Day. Instead we've got Meg. So that's no good for Day blowing it up to put the house against her, which I think would have totally worked. Instead she could decide to blackmail her for support and that could net her a few votes from Liz and allies. Hmm. Interesting.
Houseguests are still on lockdown, but once they're back in the house we'll have to see when Da'Vonne can investigate more, go to the DR, and spread the word. This could be an exciting night so let's keep watching and see what happens! You can watch now for free & keep it for $5.99/month.
Update: Overnight the Twin Twist discovery spread like wildfire. Instead of Day being able to use this as leverage we watched as Jason ran the news around the house and nearly everyone knows now.
Jump to 3:25AM BBT 7/7 to find Day, Jason, Meg, James, and Jackie are hanging out and going through all the twin details. Shortly after Jeff runs the info up to Shelli & Clay so they come down to join the house. At 3:50 AM BBT almost everyone in the house is there at the Memory Wall comparing Liz's picture.
At this point everyone but Audrey, Austin, Becky, John, and Vanessa know about the Twin Twist. I imagine it will trickle over to them, but those in the know really want to keep it from Liz that they're on to her. They're planning to do lots of questioning to catch them.
Tuesday is going to be a lot of fun as the investigate. Keep watching with us!
Join us on Facebook, Twitter, and by Email Updates for even more Big Brother news.