All Big Brother 17 season Vanessa Rousso has been working hard to line up deals, create confusion, and position herself securely against eviction. Now with just six players left the fruits of her labor are starting to be exposed to her former close allies.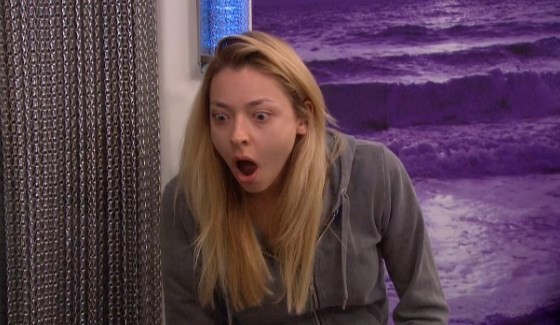 Overnight we heard talk from the Austwins as they realized Vanessa likely had final deals with John and Steve, but today their talks went farther to show how deeply rooted Vanessa had become through their own alliance and may still give them time to do something about it.
This afternoon Liz and Austin started talk through their trust issues with Vanessa. You can Flashback to 1:27 PM BBT 9/8, but note that the Feeds time is currently off real time by about 13 mins so these times are noted as what appears on the Feeds' time stamp and may change later.
Liz wants to know if Austin trusts Vanessa because she's suspecting Van's actually playing both sides of the house. Liz and Julia had this talk last night when Austin wasn't there so she's catching him up. Liz admits Vanessa made a F2 deal with Julia and Austin says Vanessa expects everyone to take her. Yep, and she nearly pulled it off (and she still might) if it hadn't been for those meddling kids and their dog!
Julia arrives around 1:42 PM BBT and the discussion continues. She also admits to Austin that she has a F2 with Vanessa and he confirms that he also has a F2 with Vanessa. Julia says Vanessa started talking it up framed as what they could do together if Liz wasn't around anymore.
Julia and Austin continue to share details and confirm that they don't trust Vanessa and need to do something about it. Austin believes all these deals are bound to backfire on Vanessa both with them and then with Steve and John taking each other over Vanessa if she doesn't win her way to the end.
The twins return to the topic they've debated all week: which one of them should go. Now we've known it won't really be up to them and they're starting to see that light too. It gives them an idea though. Julia wants Liz to stay saying there are just a few weeks left and Liz is the better competitor, true. Since Vanessa has framed this as a choice for the twins to make they'll go to her, tell Vanessa they want Liz to stay, and then see how she handles it. If Vanessa goes back on the deal then they'll consider that "open season" to go to John and tell him everything they know.
Julia gets excited over the idea. Flashback to 2:04 PM BBT as Julia tells Liz and Austin that if she's going on Thursday she wants to "blow s**t up" and reveal everything she can. Well it might not be the best idea to wait that long. Last night while the Austwins were discussing their distrust for Vanessa we heard similar sentiments from Steve who wanted to talk to Austin and disrupt any remaining trust he had with Vanessa. So while the twins want to talk with Austin it's Steve they should probably be chatting up.