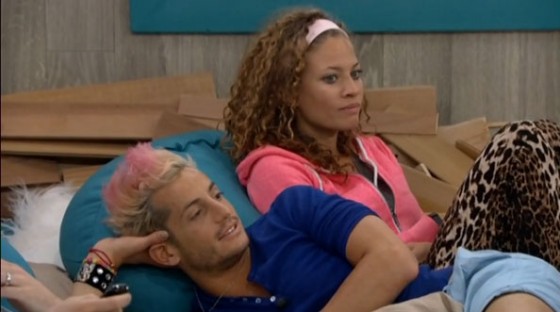 It was a somewhat mild night in the Big Brother 16 house, but Devin decided not to just lay down and die. He (production) decided he should up his campaign game, so a lot of the night involved Devin's pleas and others reacting. Find out what else happened on the Big Brother feeds last night.
Big Brother 16 Live Feed Highlights – Monday, July 14, 2014:
3:00 PM BBT – HGs are talking about the rumor that Zach is related to Amanda from Big Brother 15. Nicole actually thinks it's America trying to stir up trouble (smart girl).

3:10 PM BBT – Frankie is actually trying to dispel the rumor a bit.

4:14 PM BBT – Hayden tells the HGs that Joey told him she was America's player.

6:20 PM BBT – Caleb still thinks Donny was in the military.

7:05 PM BBT – Derrick and Frankie are proud that the Team America rumor was successfully spread.

7:20 PM BBT – Victoria is emotional because her mom sent her some face wash or lotion. She says it means her mom is watching.

8:13 PM BBT – Devin has been lightly campaigning (apparently production told him to), but Derrick says it's going to be a unanimous vote to evict him.

9:10 PM BBT – Frankie and Zach are now talking about the Devin vote also. They say there's no way he's staying. Frankie calls Devin a monster.

9:15 PM BBT – Frankie says that Caleb hates Cody

9:21 PM BBT – Frankie thinks Jocasta hates him.

9:35 PM BBT – Christine and Nicole plan to volunteer as have-nots next week.

10:09 PM BBT – Frankie is teaching sex education on the backyard couches.

11:19 PM BBT – Zach tells Donny there are people in the house that don't trust him at all. Zach and Hayden tell Donny that is's silly that people wouldn't trust him.

11:20 PM BBT – Devin is in the HOH room talking to Derrick. He says he thinks he'd regret just walking out of the game without him trying to state his case. So Devin tries to explain why he did everything and I think he's campaigning, but it's not really coming off as much more than rambling. Derrick reminds Devin that he doesn't have a vote. Devin says, "yeah but you have influence."

11:39 PM BBT – Devin moves his campaign onto Jocasta. He says he didn't come there to go home week 3.

11:43 PM BBT – Devin seems really defeated. He goes and sits in the photo booth alone.

11:44 PM BBT – Derrick, Zach and Caleb in HOH talking about how Devin has zero percent chance of staying. Even Donny told Devin, there's no way he's staying.

1:00 AM BBT – Victoria telling a story about her childhood. She says she was carried away by a crow at the beach when she was two years old…

1:40 AM BBT- Cody, Derrick, and Zach planning for next week. Cody is nervous to win the comp while Zach says he's going to throw it. They think several other HGs would go for their same targets and do the work for them.

2:40 AM BBT- Alone Derrick and Cody discussing concerns over Zach wanting to throw the competition while Derrick is in his vulnerable post-HoH state.

3:30 AM BBT – Derrick and Cody working on an alliance name for their F2 deal. Sounds like they're becoming more official while pushing Zach out to the side.
So right now it looks like Devin's pleas are getting him no where, but you have to respect him for at least trying. Do you think he can pull of an upset and send Caleb out the door this Thursday?
You can watch all of these Big Brother 16 events using the archives flashback, the DVR-like feature of this year's Live Feeds which means it's always live, even when you missed it! Sign-up now to get the free trial to watch it all live & uncensored.
click images to see full-size