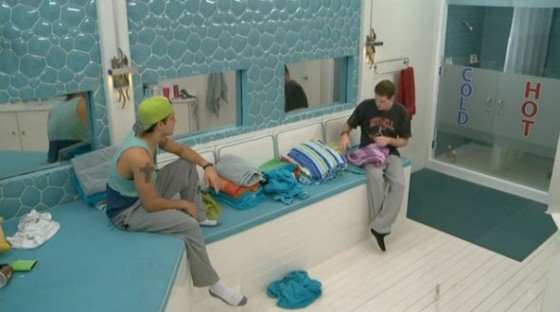 The Big Brother 16 Live Feeds finally made a comeback after the feed outage and it sounds like we have a good idea of who the final three will be following tonight's live eviction and the latest Veto Ceremony. Find out what else happened on the Big Brother Feeds in the house yesterday.
Big Brother 16 Live Feed Highlights – Tuesday, September 16, 2014:
9:03 PM BBT – Feeds return. Derrick is in the HOH room alone. Cody and Caleb are talking in the living room.

9:27 PM BBT – Caleb asks Cody if Victoria has talked to him about his vote (indication that Cody won the Power of Veto).

9:30 PM BBT – Cody mentions he hasn't been called to the DR yet. Derrick tells Cody they always save the winner for last, confirming Cody won the Power of Veto.

9:35 PM BBT – Caleb is laughing at the fact that Victoria is going to campaign to stay. Caleb acts like this is all a done deal.

10:30 PM BBT – Cody and Derrick talking about things Frankie said before he left. He asked them why they should have his jury vote and also claims that he can get the jury to vote how he wants them to vote.

10:40 PM BBT – Derrick tells Victoria that she has a good shot at staying. Derirck isn't telling her anything for sure, but he said Cody has a big opinion on why it wouldn't be good for Caleb to stay. Derrick says he pushed Victoria staying to Cody.

10:44 PM BBT – Now Derrick is coaching Victoria on her speech to Cody.

11:11 PM BBT – Cody and Derrick talking about evicting Caleb. Cody is trying to figure out what to say to Caleb. Sounds like he's toast.

11:30 PM BBT – Derrick doesn't want Cody to mention the Hitmen, but Cody says he already put it in his goodbye message.

11:38 PM BBT – Caleb practicing what he's going to say to Cody in the final veto ceremony.

11:48 PM BBT – Everyone hanging out in the HOH room. Not a lot of talk going on.

1:30 AM BBT – Cody says he doesn't think Victoria would take him to F2, but he's okay with keeping her because she'd be easier to beat in F3.

2:15 AM BBT – Derrick again telling Victoria that he doesn't know what Cody will do but he has been helping her case with Cody.

2:20 AM BBT – Victoria doesn't think she could beat Derrick at the F2, but he's suggesting it is possible if she wins some of these last comps. He points out it'd be hard for her to beat Cody though since he has so many wins.

2:40 AM BBT – Victoria tries to suggest she'd give Derrick some of her prize money if she won, but he reminds her you can't say that.

3:30 AM BBT – HGs are finally out for the night. Big day ahead of them tomorrow.
It sounds Caleb will be the next person headed to jury, which almost guarantees us that Derrick will be in the Final Two. Cody will probably join him, unless something weird happens during the final HOH.
You can watch all of these Big Brother 16 events using the archives flashback, the DVR-like feature of this year's Live Feeds which means it's always live, even when you missed it! Sign-up now to get the free trial to watch it all live & uncensored.
click images to see full-size