A big plan came together Monday on Big Brother 16 when the Veto Ceremony created an opportunity to put a surprised target on the block and move one step closer. Suddenly the plan's self-appointed leader developed buyer's remorse which brought even more drama.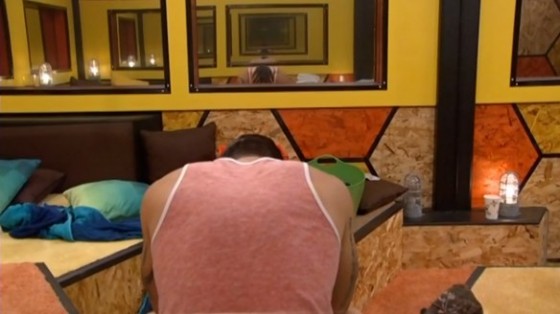 Big Brother fans who had been following along this week knew the target was Amber and the pieces were coming together to make that happen. The most interesting strategy aspect came when HGs decided to not only convince Caleb to pursue this plan, but to make him believe it was his own.
Without completely rehashing the entire situation, Caleb felt spurned as HGs informed him of the seemingly obvious: she's not in to you. So Beast Mode Cowboy decided he'd "scare" Amber back in to "her place" by getting her up on the block and then sit back and watch as she rushed to him for rescue. That was seriously his plan.
After Monday's Veto Ceremony Amber did not run to Caleb. Instead she talked with Frankie and asked him to let Caleb know she wanted to speak with him. When Caleb heard this he refused saying people don't "request him" and she'd need to come to him. Instead Amber went outside and spoke with Nicole & Victoria with a few mentions of needing to work together.
click images to see full-size views
That conversation was the ammo the guys needed to take their next step after convincing Caleb that if she ran to other HGs to form an alliance they'd know she "couldn't be trusted." Caleb's decision to refuse to speak to her gave them the chance the needed. Nice work, Caleb's ego.
Now for where things pick up. Jump to 2:55PM BBT 7/28 to find Caleb and Amber in the Hive. Frankie joins them and things get rolling. Amber initially stays, but as soon as Caleb starts to question Frankie on the things Frankie told him about Amber blowing up their alliance. Frankie halts the conversation and asks Amber to leave. She does. Amber walks right out while saying she hopes to hear the truth later. Oh, Amber.
click images to see full-size views
Caleb calls in Nicole and Frankie is holding his breath as Caleb is going to question Nicole on what Amber said to her and whether or not she really wanted to go on that date with him. It really seems to all go back to that date for him. Nicole perfectly covers for Frankie and they send her out.
At this point Frankie does not hold back. He lays in to Caleb's emotional side and hammers him with the reality that Amber does not like him. She does not like him. Amber. Does. Not. Like. Him. Caleb sits with his head down cradled in his hands as he hears it over and over. It's a tough moment for Caleb and can't be easy on him.
click images to see full-size views
Caleb stumbles outside and plops down on the couch. He doesn't move when Diary Room repeatedly calls him. Finally he gets up and shakes hands with Derrick and Frankie and then goes inside. Derrick has to get caught up by Frankie.
Back from the DR Caleb goes around campaigning for Amber. He talks with Derrick and then Hayden. Caleb tells Hayden it wasn't supposed to go like this and he feels terrible for having created this situation. (He didn't, but they've convinced him otherwise.) Hayden basically tells him that it's too bad, but Amber has to go home now. Caleb says he really thought the plan would work and Amber would come running to him. He doesn't know where this went wrong.
click images to see full-size views
Caleb feels fully responsible for this plan that was hatched around him and then implanted in his mind as his own. He doesn't understand what's going on because he never knew. Amber is set on the path to eviction and his carefully fabricated role in the house is tearing apart.
Later on in the night HGs began placating Caleb and Amber by promising votes and support. They both think she'll be staying, or at least Amber hopes it while Caleb is convinced of it. Thursday night will be a shocker with the 8-1 vote if things carry on down this path. I think they will.