CBS has unveiled their new Big Brother 16 house complete with a look at the 2014 season's design theme. In their just released video tour of the house with Julie Chen we get our first official video look inside BB16 along with guided details on what to expect.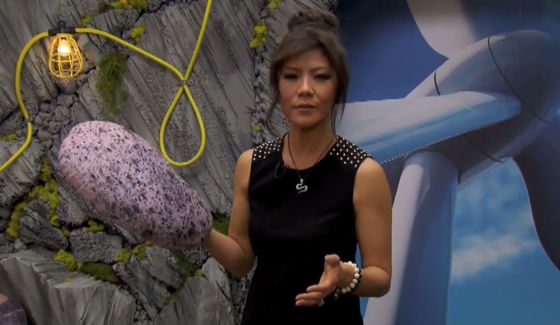 The theme of the Big Brother house this year is "Urban Treehouse" and the focus is on all the elements. We've got an Earth room with fake rock pillows, a Fire room with lots of red, a Wind room that we don't get to see, but what about Ice? Hmm, could that be the Have-Not punishment room? Or is that room the Wind room with lots of fans blowing all the time?
Back in the kitchen the big fridge is gone and there are lower, undercounter fridges and freezers. Then the kitchen island has been replaced with uneven tree slices like stumps (there's a better description of that I'm sure).
The living room is made to look like you're in a tree house way up in the sky and you're looking out at the clouds. Worry not though, as Julie explains it's really just wall paper. Hah!
Check out the HoH room which has a birds nest, or as Julie (and readers here) like to call it, a love nest. We're still waiting to find out if there's another HoH bedroom or even a second bed up there with the news that there will be two HoH's as part of this season's all-new twist.
Big Brother 16 House Tour:

Big Brother House Photo Gallery:

click images to see full-size views
Source: CBS/YouTube