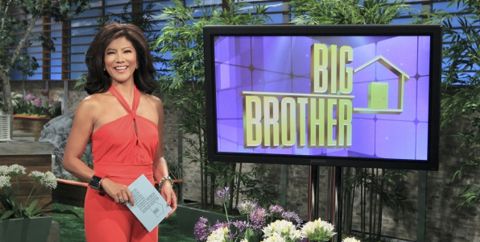 Today on The Talk it was Big Brother 14 day as the hosts relived their day of fun inside the BB14 house. There were clips of the house, competitions, and even Diary Room segments for each of the hosts. All through the episode host Julie Chen teased us that she'd reveal the twist and by the end she did. Kinda.
Julie explained what we already know: 12 new HouseGuests have moved in. 4 "legendary" former HGs followed closely behind. Those Veteran players will be playing a Big Brother side game for their own prize. Watch the full video of that segment below.
What Julie didn't detail was what exactly the Vets will be doing and what their prize may be. The common expectation is the Vets will be mentoring and leading three HGs each. When the Vet's three HGs are eliminated then the Vet is eliminated as well. The prize money for the Vet could be anything, maybe $100K, maybe $1. We don't know.
In addition to those details, CBS also released a series of photos from what we'll see on the first episode of Big Brother 14. The most interesting to me is the picture of newbie HG Ian Terry competing in what I expect is the first HoH competition. I guess that explains where his teddy bear came from that we saw in the leaked Live Feeds photos.
Get ready for the Big Brother premiere tonight at 9PM ET/PT and then make sure you've got your Live Feeds account set up and ready so you can start watching when those go live around 10PM PT. Here's a direct link to get your free 3-day trial. Enjoy!
Click images to see full-size