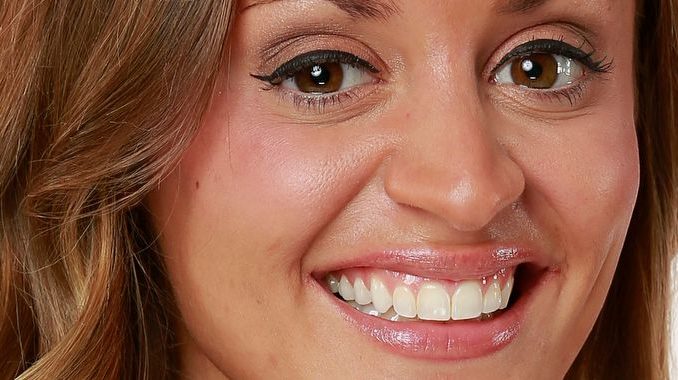 Kaitlyn Herman is a 24-year-old life coach who believes she'll be the next big female self-help guru after a psychic gave her this exciting news. If you don't believe her she'll throw sage at you for a cleaning ritual. Okay, so Kaitlyn sounds a little goofy, but maybe that'll translate into a fun personality to follow on Big Brother 20. We'll have to wait and see how she performs without her crystal collection and time for her "self-love" which probably isn't what I thought it was anyway.
Kaitlyn Herman
Age: 24
Hometown: Plainview, NY
Current City: Encino, CA
Occupation: Life Coach
Gallery: Click thumbnails to see full-size view >>
Three adjectives that describe you: Personable, intuitive and dramatic.
Favorite Activities: Taking Pure Barre classes, meditation and watching reality television.
What do you think will be the most difficult part about living inside the Big Brother house: Not having my crystals, essential oils, yoga mat, BOOKS, or my journal. I have my daily rituals for self-love and I would have to come up with new ways to make time for myself.
Which past Big Brother cast member did you like most: My favorite Big Brother houseguest was Victor Arroyo from BB18. I know that's kind of shocking. But I was just always rooting for him. Especially when he got back in the house after winning the battle back. He was such a good competitor and had such a beautifully sweet side to him. I just loved his energy so much as a human being and genuinely enjoyed watching his journey. Plus, he and Nicole are literally a match made in heaven.
Do you have a strategy for winning the game: I do. I'm going to use my intuition, my sensitivity to energy, and my messages from my guides to help me direct which way to move throughout the house. I plan to be that person that creates a sense of calm in the house, instead of bad energy.
My life's motto is: Everything is happening for the highest good of every person.
What would you take into the house and why:
My crystal.
Essential oils/diffuser.
My journal. All of these things have transformed my quality of life so much. I'm all about good vibes and positive energy and all 3 of those things help me feel zen.
Fun facts about yourself:
I'm often caught sleeping with my eyes open, which is terrifying for those I live with.
Years ago, I went to a psychic medium with the hopes of connecting with my deceased grandfather, but the medium surprised me by revealing I would soon be one of the most influential self-help women in the world.
If I sense bad energy with family or friends I will (without invitation) start to sage them until the negativity is cleared.
I have a blog called From Betches to Buddhas.


Try 1 Week Free! Only $5.99 per month thereafter. Sign-up now.