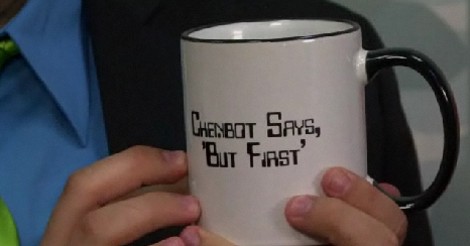 Ross Mathews is back with "Inside Dish" and today he's got an awesome giveaway that you can win. I know its awesome because it's a limited, exclusive Big Brother mug featuring the Chenbot's signature line, "But First!"
Only 5 of these Chenbot mugs were ever made. 3 went "Inside Dish" for having me on with Julie Chen. 1 went to Chelsia Hart (BB9) for joining us in the exclusive webchat. The last one is resting here in my hot little hand. So if you want one then this giveaway from "Inside Dish" is your only chance!
Check out the video below for details. Watch it all, but then jump back to 6:30 in the video for all the details on how to win the exclusive Chenbot mug. You'll need to send an email to Ross and Ryan at insidedish@cbs.com explaining why you should win this Big Brother prize. You better make your reason really good!