Da'Vonne Rogers, a 27-year-old poker dealer living in LA, comes from what she considers an "extremely religious family" but she might not share the same dedication. Da'Vonne's mother is a minister and her uncle is a pastor, but while they were at church she'd rather get out to the beach.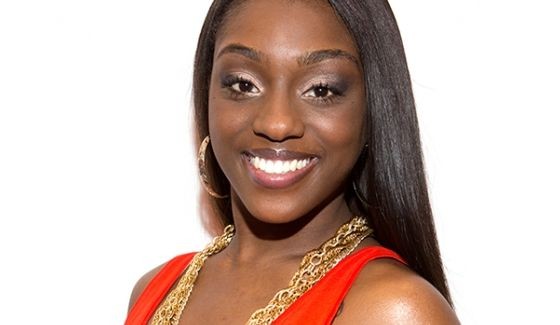 Da'Vonne is a single mother who has enjoyed watching Big Brother with her grandmother who happened to encourage her to apply for BB17. She's studied the comps and knows she'll have to overcome her preference for going it along if she wants to survive in the game.
Her biggest fear going in to the house? Bugs. Uh huh, Big Brother ants, you better watch out. "I will knock down babies and old people just to get away." I'm thinking we'll have some good gif's here with Da'Vonne Rogers.
Rachel Reilly is who she admires most as a Big Brother player despite sharing the love-hate that many fans have for Rachel. "I loved her because she was a competition genius, but I hated her because she was too damn emotional."
Move over, Devin, because Da'Vonne has a daughter, but let's just wait and see if she takes it too the same level. If she could take one thing into the house it'd be a picture of her daughter or maybe a t-shirt with a picture of her grandmother. I'm hoping she'll get the latter with an HoH basket.
Da'Vonne Rogers, 27
Hometown: Inglewood, Calif.
Current City: Los Angeles
Occupation: Poker Dealer
Interview with Da'Vonne

Another superfan this season as their numbers continue to add up. Da'Vonne got in to Big Brother thanks to her grandmother and after she passed away Da'Vonne decided to follow her advice and apply for the show. Smart move.
She cites Danielle from season three as one of her favorites and I couldn't agree more. Da'Vonne hopes to get two players to join her and run a game like Dan did with Keesha and Memphis in S10. It's a solid plan if she can make it happen.
Perhaps the most interesting part about Da'Vonne is her profession and how it relates to Vanessa Rousso, the top level professional poker player who is hoping to keep her identity hidden. If Da'Vonne is worth her weight then she'll immediately recognize Vanessa and how she handles that could have a big impact on both their games. This pairing of players can not be by chance.