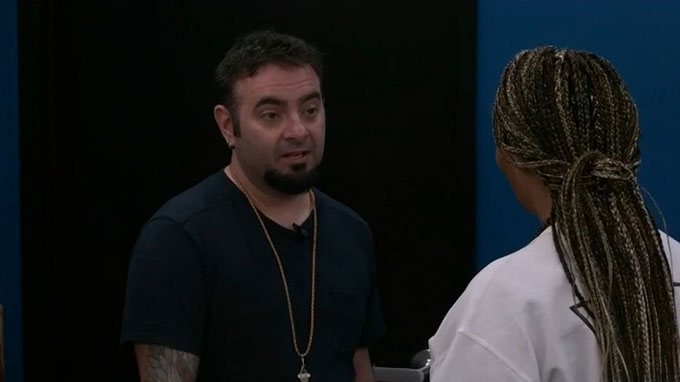 Dynamics in the Celebrity Big Brother house could surely change after tonight's live eviction if Chris Kirpatrick makes a big move, but as of now, there are some pretty strong working alliances in the CBB3 house. Let's take a look at the alliances and deals as the currently stand.
As we all saw at the start of the season, the Formation alliance was Carson, Cynthia, Teddi, Shanna, Todrick and Mirai. That was enough numbers to steamroll the game, but Todrick jumped ship fast, as did Shanna (though she's circled back around to some of them). And of course Teddi has since been evicted. So right now, of that group,  it's only Carson and Cynthia who still have a thing. They have their pinky swear deal and seem to be pretty solid.
We also saw Miesha form the Athletes alliance of her, Lamar, Todrick and Chris Kirkpatrick. That alliance is kind of not totally intact because when Todrick and Shanna jumped out of the Formation group, they sort of helped form a majority alliance of Miesha, Kirpatrick. Shanna and Todrick. And they have Lamar and Todd working with them. So as of now that's the dominant force. Among that group, we've got two different final 2 deals: Miesha and Todrick, and Shanna and Kirpatrick.
And sitting all by themselves are the current nominees this week, Mirai and Chris Kattan.
As you can see there's a clear majority in the house, but Kirkpatrick seems ready to make a move against Todrick and Miesha. And with Shanna at his side, they could team up with Cynthia and Carson (and with Kattan on their side with a vote) have a new majority alliance by the end of the night. But we will have to wait and see what happens with this next eviction set for tonight.
As always, thanks goes out to @89razorskate20 on Twitter for helping us keep the alliances and deals straight. Check out their always-cool and helpful graphic below.