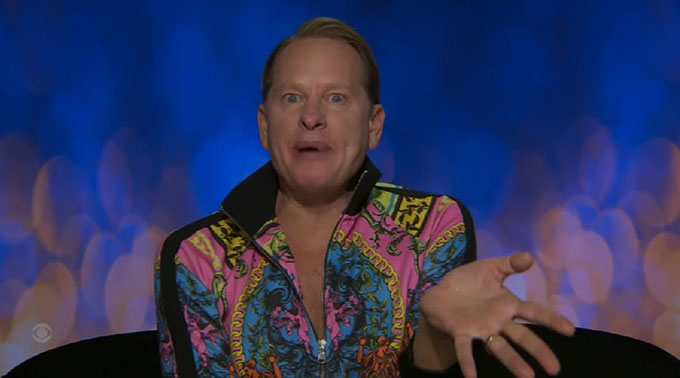 Celebrity Big Brother already sent one houseguest packing, signaling just how fast this season is going to go. So with no time to waste, we are going to take a look at the first Power Rankings of the season.
I'll be basing the rankings on social game, strategy and competition performance. And I'm just one person, so how I weigh things may differ from how you weigh things. So be sure to let us know in our comments section how you would rank the Celebrity Big Brother houseguests after this round.
Celebrity Big Brother 3 Power Rankings Round 1
1. Carson Kressley. For his social game and that incredible veto performance, Carson takes the top spot for our first rankings. Of course he has a target on his back, and that could count against him, I'm not going to take that into account at the moment.
2. Cynthia Bailey. Having been the person actually chosen to have safety this week speaks for itself. It looks like she might be slipping into underdog territory along with Carson, but for the first round, Cynthia really played the game well.
3. Mirai Nagasu. I think it says a lot about Mirai that she went from the target to getting off the block on eviction night. And had she not been removed, she was still going to stay in the house this week. She maneuvered the game really well this week, and despite being a nominee, I find that very impressive.
4. Lamar Odom. I think Lamar is doing all the right things. He's laying low but staying social, and as of now, on one is looking in his direction. He seems to be in one of the best positions at the moment, as in he's doing what everyone else is trying to do, but not getting noticed.
5. Miesha Tate. Normally I would put the Head of Household higher, but Miesha didn't make great moves this week. She did what a lot of people do as first HOH, and overplayed a bit. I think she put a pretty clear target on her back.
6. Shanna Moakler. I don't think it's going to benefit her in the long run, but Shanna has displayed a classic Big Brother floater game this week. She went where the power was, and when she feared she could be in danger, she did what she had to do. She might lack loyalty, but her moves worked for her this week.
7. Chris Kirkpatrick. I'm not a fan of how he's playing or the alliance he was presented, but he's doing a decent job, and he's kept his superfan status pretty low-key.
8. Todrick Hall. Todrick is playing way too hard, way too fast. I would actually like to put him lower than this for all of his alliances, but it doesn't seem like anyone cares that he's in everyone's alliances. But what really puts him this low for me, is how he's ignoring his real-life relationship with Carson and is randomly targeting him. That just doesn't make any sense to me. I thought they'd be clear allies in this game. I think his antics will catch up with him.
9. Chris Kattan. Chris isn't playing much of Big Brother, but he's been kind of sweet to everyone, and that could actually end up faring well for him. And he's less annoying than I thought he'd be.
10. Todd Bridges. I'm not sure what all has gone on with Todd, but him getting that nomination during tonight's episode, along with him really lacking from the episodes makes me think there's not much BB game in him.
11. Teddi Mellancamp. The first boot has to rank last, but I would like to say if she managed to stay, I would have probably ranked her second or third. She fought to stay in the game, and was as real as you can be in the Big Brother house. I am kind of sad to see her go. I think she had a lot of game in her to play.
These rankings were not as easy as I thought they'd be. I'm actually second guessing all of them and have moved them around more than you can imagine. But this is where I've landed, and I'm sure things will change drastically after a few days. So after you're done telling me how wrong I am, please share how you would rank the players after round 1!