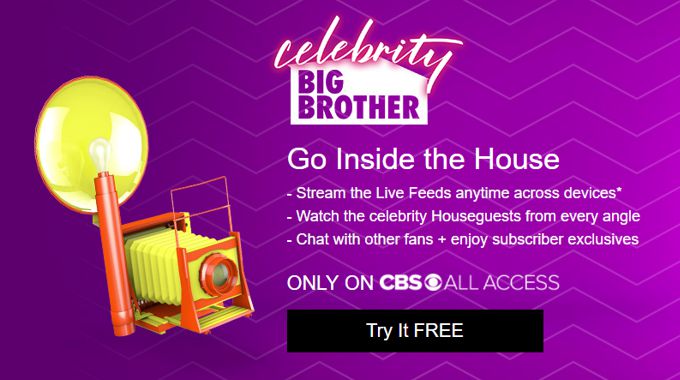 Celebrity Big Brother's Live Feeds are set to return on Tuesday after the two-night premiere concludes but why wait that long to see what's happening in the CBB2 house RIGHT NOW! Yes, CBS has promised to open the Feeds' gates early for a sneak peek like last year and you won't want to miss this action.
The Celebrity Houseguests moved in on Wednesday and have been playing away at the game ever since. That means we should have a Head of Household by now and maybe a few alliances forming.

If you want to watch the sneak peek and be ready for the full season then sign up NOW to get the Free Trial and enjoy live and rewind action for everything the cameras catch. You'll get a full month for $5.99 through All Access, the home of Big Brother Live Feeds, so that's a cheap price for all the entertainment of Feeds plus all the CBS shows you can stream.


Try Live Feeds 1 Week Free! Only $5.99 per month thereafter. Sign-up now.
We'll post notices on Facebook, Twitter, via our Big Brother App everytime CBS announces a sneak peek of the Feeds so make sure you're with us on all those platforms so you don't miss a thing!
Update: First sneak peek arrived Thurs (1/17) at 5PM ET (2PM PT) only on All Access. Sign up & rewind to watch! It was a fun fifteen minute stretch of Feeds.
Update 2: Additional sneak peek on Friday (1/18) was 2PM PT (BBT) for 15 mins. Rewind to watch.
Update 3: Another brief peek on Monday (1/21) at 11AM PT for 15 mins. Rewind to watch.
When you sign up for Feeds through our banners and links it gives us a referral credit from CBS which is a major way we're able to run this site every season. Thank you for your continued support! We really do appreciate your help. Now let's get ready for another season of Big Brother