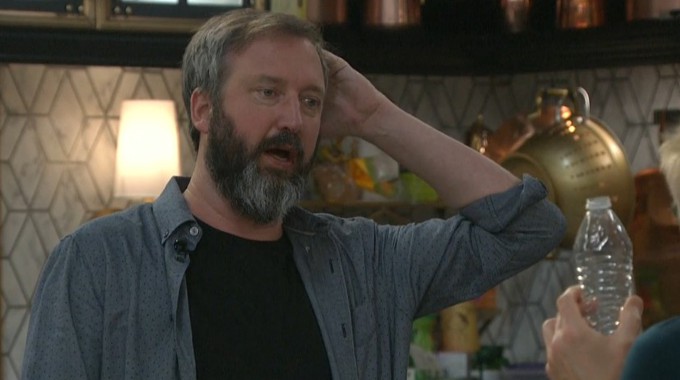 Now that was a big night with a live eviction and a terribly long Head of Household competition, but the fun is over now. We've got one less HG in the mix, bye Ryan, and a new HOH to send us along our way but don't look for big changes in the flow of the game just yet with these latest results.
Don't miss your chance to watch along with us. The season is just getting started and that'll run less than a month (check the schedule) so you can watch all the fun for less than $6.
If you've got the Live Feeds (Free Trial) then you can watch all of these moments with the Flashback feature to go back and watch those important conversations or funny scenes you may have missed.
Celebrity Big Brother Live Feed Highlights – Monday, January 28, 2018:
6:06 PM BBT – Feeds are back from the eviction show.

6:08 PM BBT – Lolo is feeling bad about evicting Ryan. Tom assures her that Ryan isn't upset and they'll all laugh about this when it's over.

6:15 PM BBT – Natalie says she's worried about Dina, Kandi, and Tamar but Lolo thinks Dina is with them. Natalie expects Joey to go next.

6:20 PM BBT – Joey complains to Kato. He's unhappy and says he doesn't like this situation. Joey wants to act out characters, not be a reality TV persona.

6:30 PM BBT – Ricky talks with Kato about putting Dina on the Block if he wins HOH. Kato is good with that. Ricky is also okay with them saving Dina if it happens.

6:30 PM BBT – Joey tells Natalie he's not sad, he's just ready to move on and let them play against each other after he's gone.

6:35 PM BBT – Tamar talks to Joey, telling him he has 20 more minutes to sulk then it's time to put on his big boy pants and play the game. Joey points out if they can get Kandi and Dina to join the two of them then they'd need just one more to turn the game.

6:45 PM BBT – Lolo reminds Natalie that they talked to Joey about alliances Day 1 and he told them he doesn't believe in alliances.

6:50 PM BBT – Ricky warns Lolo that Joey would put her and Natalie on the Block if he wins HOH because Joey and Ryan put the blame on them.

6:55 PM BBT – Natalie and Lolo worry about Kato and how he's not taking any heat despite his wins and impact. They worry Joey may try to influence Kato about there being a girls alliance.

7:05 PM BBT – Feeds cut for the HOH comp.

1:08 AM BBT – Feeds are back. Tom won HOH.

1:15 AM BBT – HGs discussing how much fun they had with the haunted house competition.

1:40 AM BBT – Team Fun alliance had a moment to chat and discuss using two of the women to BD Joey.

1:42 AM BBT – Joey is glad Tom won and upset at someone else's behavior tonight. Sounds like Joey is upset with Ricky.

1:50 AM BBT – Joey explains he runs the hairdryer as cover noise instead of running water and wasting it.

2:18 AM BBT – Tamar and Kandi discuss the haunted house competition. Tamar says she wasn't going to do it. Feeds cut.

2:28 AM BBT – Tom says he hasn't decided yet on what he'll do and wants to talk with HGs first.

3:05 AM BBT – HOH room reveal. Everyone comes up to see it and hear his letter from his parents.

3:15 AM BBT – Ricky and Kato stay to chat over a beer and talk noms. Ricky discouraging Tom from talking with everyone in one-on-ones.

3:20 AM BBT – Kato suggests to stick with nominating Kandi and Tamar then backdooring Joey. That way they're covered if Joey wins Veto.

3:30 AM BBT – Tom says he doesn't want to have to send Dina home this round, maybe next round.

3:40 AM BBT – Tom has been lounging in the HOH room listening to music while the HGs get ready for bed.
No big surprise here that Tom would continue to plan to get out Joey but he might have a chance to save himself with the Veto if he's lucky to be drawn. Otherwise, we'll see how that plays out and who is the next HG to leave the Celebrity Big Brother house! Noms should be coming up on Tuesday.
You can watch all of these Big Brother events using the archives Flashback, the DVR-like feature of this year's Live Feeds which means it's always live, even when you missed it! Sign-up now to get the free trial to watch it all live & uncensored.

Gallery: Live Feeds Highlights