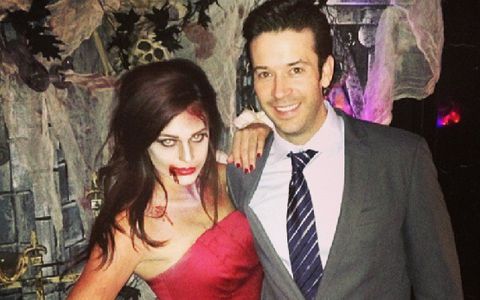 Big Brother HGs were taking advantage of the double dip of Halloween opportunities this weekend. A few Big Brother 15 houseguests breaking out their costumes early while other familiar faces from the BB family were getting ready for the upcoming fun.
BB15's Kaitlin Barnaby and Jessie Kowalski were ready for Halloween this weekend as both were out enjoying some fun. Kaitlin, dressed for the Zombie Prom, even managed to catch up with Big Brother All-Star James Rhine who Tweeted that his prom date was looking a little under the weather. Looks like Kaitlin was managing to have plenty of fun in Vegas even if she was a little undead for the night.
Jessie Kowalski took a turn as a "sexy referee" for her costume and threw out a few penalty nominations along the way as she joked online.
Not everyone was getting geared up just yet though. Jeff and Jordan were busy carving up some pumpkins this weekend and saving their costumes for later.
We're still waiting to see what the rest of the BB15 crew dresses up as, but if you're hoping to go as Judd then he's got one of his costumes ready for you on eBay!
click images to see full-size