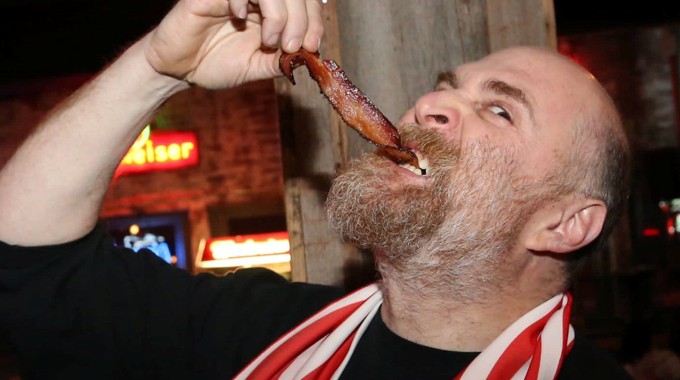 Tonight the 7th person will be voted out of the Big Brother 23 house and it looks like this will be the 3rd successful "Backdoor" of the season. I put that in quotes since over the years – the backdoor has come to mean just the replacement nominee going home, but the true meaning is when someone does not get nominated nor plays in Veto and then goes up on the block & out the door. Travis (week 1) and Christian (week 5) both were traditionally backdoor'd and now we see it happening again, But this time, there was a lot of talk about flipping the vote. Will that happen? We'll find out tonight.
But first – let's take a look back at everyone's Big Brother game this week and see who deserves Bacon, who deserves Tofu, and who was the Tofurkey of the Week.
Xavier – 5 strips of Bacon – Xavier is arguably playing the best game of the season – and as he even said in his Diary Room session – he positioned himself to not be nominated this season. Unfortunately – thanks to the High Rollers room – he became a casualty of the Chopping Block Roulette & found himself on the block. But that did not last long as he absolutely smoked the competition and walked away with the Veto. In doing so – he also took some penalties – including being a 3rd nominee at the next possible With the Cookout protecting him, Alyssa protecting him (except when she spins the roulette wheel), and his calm demeanor – Xavier will be fine if he's on the block next Thursday.
Tiffany – 4 strips of Bacon – we've been watching Tiffany play an amazing game so far this season – however, she is starting to get a little too cocky for her own good. When things are going well in the BB house, some players take their foot off the pedal and try to stay under the radar. Other people get a little too excited and start to overplay. Tiffany is leaning into the latter as witnessed by her attempt to flip the vote this week to keep DX. Once she was shot down by Kyland & Xavier – she shifted her approach and instead of trying to flip the vote herself, she fed DX some points to make in his campaign. We've seen other Cookout members get a little annoyed with her before – but then she comes away unscathed. How long will she be able to wear that Teflon suit?
Kyland – 3 strips of Bacon – as you will read later, despite not having the key around his neck, this was Kyland's 3rd HoH of the season. Not only did he convince the HoH what to do with the nominations / backdoor plan, he also did damage control / shot down whatever plans anyone else brought to her. I say it every week – that nice guy we met when the game started is morphing into a hardened Big Brother badass.
Derek F – 2 strips of Bacon – despite laying around and not doing much on the surface (other than wiping them down – as he's the best cleaner of the bunch) – Derek F has been more involved in game conversations recently. He has publicly and privately questioned Tiffany and I could see him taking a shot at her when the Cookout gets to the Final 6. His social game is strong and he's pretty aware of everything going on around him. People keep saying he's the perfect person to take to the end – but along the way, those people will end up falling and he'll be laughing on the way to those F2 chairs.
Hannah – 1 strip of Bacon – as I pointed out last week – Hannah is playing so far under the radar – we sometimes forget she is even still playing the game. 13 out of the first 19 episodes of the season – she has had 0 or 1 Diary Room session on the CBS show. She does not show up on the feeds much either – but she is working her angles and playing smart instead of emotional. The silent assassin game is working for her – but she will need to step it up and take some shots soon. For now though, staying out of the way is the best approach for Hannah.
Alyssa – 1/2 strip of Bacon – kudos to Alyssa for winning the Chopping Block Roulette in the High Rollers room this week. However – it's easy to win when no one else competes. So for the 2nd time in as many weeks – she basically had a win handed to her. I got a lot of comments last week bashing me for giving her so much bacon for winning a comp thrown to her – but in the game of Big Brother – even when people throw comps, you still need to step up and win them. Alyssa's win came with her #1 ally Xavier ending up on the block – but that was not really her fault. Alyssa already knows she will have to keep winning comps to keep herself safe. Let's see if she can beast mode it.
Claire – 1 strip of Tofu – sadly for Claire – she does not realize how her #1 ally Tiffany is willing to let her go as early as this week. Although that vote flip is 99.9% not happening this week – moving forward she does not really have anyone that will step up for her. She's been close to catching on to the Cookout as she & DX have compared notes – but still does not see it. Not like she is even in a position to do anything about it anymore – so she is just a dead woman walking unless she can (like Alyssa) kick it into high gear and win her way out.
Azah – 2 strips of Tofu – see Hannah minus the smarts. Despite being more visible on the CBS show – when she does show up (on feeds or on CBS) – it's not because she is doing any strategic planning. This is the person that everyone should want to take to the end as Azah has done nothing to garner any votes.
That brings us to the Tofurkey of the Week – and if you are keeping track of the HGs above – you will see there are 2 people that have yet to be ranked. That means we have not but 2 Tofurkeys of the Week.
First – Sarah Beth – she became the first female HoH of the season and immediately handed the power to Kyland. Just after making the big move to backdoor DX she thanked Kyland for his support to make that move – but a few minutes later told Tiffany she had no control over her HoH. This is going to haunt SB for the rest of her life when she looks back and realizes she had the chance to actually make a move to help further her game instead of helping so many others and hurting her.
Second – Derek X – as the 2nd person to get back to back Tofurkeys (Frenchie earned that honor week 1 & 2) – DX made some bad bad bad decisions this whole season. This week specifically – he should have known he was a target. After his conversation with Xavier & Kyland the night before HoH where he said he would throw the HoH, but then came to the realization – he needed to win the HoH, he let the chance for safety slip through his fingers. Last week Britini went home with unspent BB Bucks – and now DX will be walking out with his pocket full of BB Bucks. Hindsight is 20/20 in Big Brother – but like SB – he's kicking himself not playing for safety this week. By this point in the game – his naivety should have been out the window – but here we are… saying goodbye to him.
There ya go – another week in the books – another backdoor eviction – and another HoH to be crowned.
After tonight – we will be down to 9 players left – and 5 weeks until the finale – so there will be a double or triple eviction happening that will shake up everything. It's a foregone conclusion that the Cookout will be in both final 2 chairs – so the only drama left is to see how they turn on each other. For now – we still have 3 non-Cookout members – but they all look like they would take shots at each other.
For my question of the week – which non-Cookout member do you think will last the longest and why?
Let me know what you think of my rankings and the answer to my question of the week in the comments section below. From outside the Big Brother House, this is Adam Poch reminding you, ignorance is temporary, stupid is forever.
Catch me here every week during the BB season for my rankings. If you want more of my thoughts during the season. follow me on Twitter @HeavyMetalTeddy – and listen to my Podcast – @BigBrothersPod.