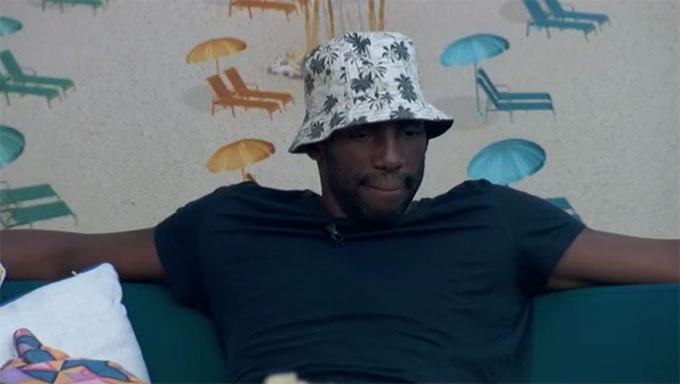 With the Big Brother 23 houseguests already decided on sending Frenchie home this week, the Tuesday evening talk around the house centered on who the next targets should be. Brent's name came up a lot, while he is pushing for women to be the next two to go. Read on to find out who could be in trouble this week, depending on who the next Head of Household is.
Try Live Feeds 1 Week Free! Sign-up now!
If you've got the Live Feeds (Free Trial) then you can watch all of these moments with the Flashback feature to go back and watch those important conversations or funny scenes you may have missed.
Big Brother 23 Live Feed Highlights – Tuesday, July 20, 2021:
3:05 PM BBT – Christian asks Brent if he would nominate two women. He says yes and the next two weeks, women have to go. Christian asks who would go up. Brent says Britini and Claire or Britini and Azah.

4:18 PM BBT – Frenchie says he wouldn't be on the block right now had he not been the first Head of Household.

5:15 PM BBT – HGs just hanging out, general chit-chat going on.

7:05 PM BBT – Alyssa tells Sarah Beth that she would rather Brent go over Whitney because Whitney wants girls at the end. Alyssa says Brent has been telling her she should trust him over Christian. Brent told her Christian was the whole reason she was on the block the first week. Sarah Beth tells Alyssa that if one of the Jokers win HOH they will put up Brent and Whitney. Alyssa says herself and SB are safe regardless this week.

7:08 PM BBT – Alyssa asks why people want Brent and Whitney out. SB says because of Frenchie. She says he went around blaming everything on Brent and Whitney.

7:10 PM BBT – Brent tells Whitney and Christian that he feels good about Hannah and Derek X because they both are on the same page as them with getting out two girls the next two weeks. Whitney says she's not so sure Hannah feels that way.

7:12 PM BBT – Brent says that Azah has moved to the top of his hit list. He says he didn't like how she was talking to him (she explained to him the difference between a floater and coaster).

7:18 PM BBT – Sarah Beth tells Alyssa she'd be most worried if Brent wins HOH because she doesn't know who he would target. Alyssa says she thinks Brent would go for Britini and Azah.

7:28 PM BBT – Brent is still obsessing over a girls alliance and getting two girls out next. SB tells him that she was approached about the French Kisses alliance but hasn't heard anything about it since. She says if there's a girls alliance they're not including her.

8:13 PM BBT – Sarah Beth talks to the cameras saying she thought she wanted to win the next HOH but now she doesn't think that's a good idea. She says it's too early to backstab someone and she'd have to do that if she won HOH. Sarah Beth tells us the only person she's telling all of her information to is Kyland.

8:24 PM BBT – Frenchie tells Tiffany that he thinks Hannah manipulated his HOH week. He says he thinks Hannah told Brent about the alliance Frenchie made with the girls (Frenchie told Brent).

8:46 PM BBT – Tiffany asks Hannah if they have the opportunity should they get Brent out next. Hannah says yes and says he is dangerous to their games.

8:58 PM BBT – Hannah talking about Brent, Whitney, and Britini going before jury and then says as soon as they hit jury Alyssa has to go.

9:09 PM BBT – Hannah tells Tiffany and Claire that she thinks Alyssa is the Bridget between Brent and Whitney so she asks if Alyssa should go next to weaken Brent and Whitney. Tiffany and Claire start wondering if Alyssa should go too. Claire says Alyssa, Christian and Xaiver are all tight and shouldn't all be in jury together.

9:14 PM BBT – Tiffany mentions putting up Alyssa and Brent together. Claire says that's an interesting idea.

9:20 PM BBT – Hannah tells Claire she is the most ideal person to win HOH next. Claire says if she's HOH she would have to still consider Brent and Whitney because she's heard them throwing her name out there as a target and she doesn't know if Alyssa has done that.

9:38 PM BBT – Hannah says Alyssa has got to go because she has so many people wrapped around her fingers. Claire says she agrees Alyssa needs to go before jury, but Hannah thinks she needs to go next.

9:45 PM BBT – Kyland, Alyssa, and DX discuss there's one big move to make next week. When Brent comes over their conversation stops.

9:50 PM BBT – Alyssa tells Tiffany and Claire that Derek X is willing to throw HOH to Alyssa/her team so she can his team (Whitney and Brent).

10:00 PM BBT – Brent tells DX they need to get rid of Frenchie's girls-alliance even if it wasn't real.

10:00 PM BBT – Claire and Tiffany can't believe Alyssa is feeding them information. They decide they should keep her a little longer now.

10:00 PM BBT – Derek F is hosting another episode of Big Blue Couch.

10:30 PM BBT – Britini tells Tiffany she would target Brent and Hannah if she wins HOH and Hannah is her main target because she doesn't talk game with her and then Christian as a renom option. Britini says Alyssa, Christian, Brent, and Whitney are the ones running things right now.

10:35 PM BBT – Britini says they have to get out some of these guys as she reflects on the challenge of competing against all guys in the Veto competition.

10:40 PM BBT – Alyssa tells Christian how DX will throw the HOH to them. Christian still wants DX out though and Alyssa says just not yet. Alyssa says if it's Tiffany, Claire, or Sarah up for the win to let them have it so the two of them can stay good with Slaughterhouse.

10:50 PM BBT – Frenchie believes HGs are talking and laughing about him when he's not around.

10:50 PM BBT – Xavier tells Kyland he's okay with going after Whitney and Brent then targeting Whitney over Brent. Xavier thinks Whitney could be more vengeful later in the game.

10:55 PM BBT – Alyssa, Christian, and Xavier are studying events and dates.

11:00 PM BBT – Tiffany has a camera from Big Brother and she's going around the house with it.

11:55 PM BBT – Britini worries to Derek F that she could become a repeat pawn and wonders if she should be campaigning.

1:05 AM BBT – Derek F joking around that he has to keep his distance from Kyland because he has a crush on him. Frenchie goes and tells Kyland to come give DF a hug. DF jokes that Frenchie has lost his vote.

1:45 AM BBT – HGs are turning in for the night.

1:55 AM BBT – Christian and Alyssa are curling up in bed together.
Plans are coming together for next week but ideas are just that until we know who has the power to make it happen. For now, it looks like Brent and Whitney could be a top pick for several HGs while others may be happy to sit back and let them take care of that for everyone.
You can watch all of these Big Brother events using the archives Flashback, the DVR-like feature of this year's Live Feeds which means it's always live, even when you missed it! Sign-up now to get the free trial to watch it all live & uncensored.


Gallery: Live Feeds Highlights
Download our Big Brother App, join us on Facebook & Twitter, and get our Email Updates for more!