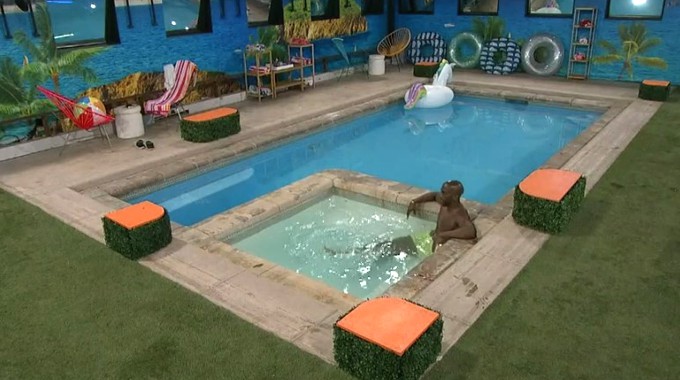 Veto Day arrived for the Final 4 on Big Brother 23 and the win here was critical for the big target. Without that safety in hand, his fate could be sealed so he's ready to compete. So were the other three HGs ready to block his win.
Kyland knows he's in danger here and the only way to guarantee safety is with the POV. But did it work out for him? Read on for Saturday's highlights and spoilers to find out which way the vote is leaning for Thursday's eviction.
Try Live Feeds 1 Week Free! Sign-up now!
If you've got the Live Feeds (Free Trial) then you can watch all of these moments with the Flashback feature to go back and watch those important conversations or funny scenes you may have missed.
Big Brother 23 Live Feed Highlights – Saturday, September 18, 2021:
9:45 AM BBT – HGs getting up for Veto Day.

11:00 AM BBT – Xavier is up and cleaning. Kyland is resting. DF and Azah are hanging out.

12:15 PM BBT – DF camtalks saying the game is harder than it looked and he's struggling to win comps so his game is in their hands. He's expecting the days & events comp soon but thinks everyone else knows them better.

12:38 PM BBT – Pet Loops come on.

3:11 PM BBT – Feeds return from the Veto comp. Kyland stands alone in the HN room with his head hanging.

3:12 PM BBT – Kyland camtalks that this is what everyone was warning him about happening. He says for weeks he saved Xavier and hopes it will be returned.

3:33 PM BBT – Xavier goes to check on Kyland. Kyland says he isn't okay but still happy for Xavier. Xavier says they can do their talks tomorrow.

3:40 PM BBT – Kyland reminds Xavier that he has prioritized him several times recently. Xavier says to wait and see what he does with the Veto.

4:05 PM BBT – HGs are hanging out and discussing the competition.

4:40 PM BBT – DF tells Azah that he's played the same game as Xavier, but Xavier has just won a few comps.

5:00 PM BBT – Azah is cuddling with Xavier. Kyland is sitting alone in the living room.

5:30 PM BBT – Kyland and Azah discussing the Veto comp. They got tripped up on the question of which day was the oven fire.

6:45 PM BBT – HGs hanging out in the living room while Derek works in the kitchen.

8:00 PM BBT – Xavier and Derek playing cards.

9:00 PM BBT – Cards continue as Kyland joined and soon Azah too.

10:20 PM BBT – HGs hanging out and going over the season and HGs.

10:50 PM BBT – Xavier, DF, and Azah discussing eviction Kyland. DF wants to be the one to build his resume, but worries he'd lose Kyland's vote at the end. Azah says she'll glad evict him so then Xavier can just save her, put up DF, and she'll take care of it. She's explaining how the F4 Veto happens at the live show and she'll

11:20 PM BBT – Xavier heads out to the hot tub and Azah joins him later.

11:50 PM BBT – While X & Azah are outside, back inside Kyland is talking game with DF. Kyland is working on getting DF's support.

12:00 AM BBT – Xavier and Azah agree that Kyland needs to go.

12:45 AM BBT – Xavier is upstairs and Kyland has gone to the hot tub with Azah. They're reviewing the Cookout and how it worked with the votes to keep hidden.

1:30 AM BBT – Kyland is getting ready for bed. DF is upstairs listening to the HOH music.

1:55 AM BBT – Azah and DF discussing the deals that were made this season and which were kept or broken.

2:05 AM BBT – Azah asking DF if he can be the one to evict Kyland. DF says Kyland was talking about game moves earlier and convinced him (DF) that Kyland does need to go.

2:15 AM BBT – Kyland camtalks that he came in last place in the Veto comp. He's frustrated to have played so poorly behind HGs who have not previously done well.

2:20 AM BBT – Kyland says that loyalty should be rewarded this season. He hopes to get to F3 where he can control the next move.

2:30 AM BBT – Lights out.
It seems that Xavier, DF, and Azah all agree that evicting Kyland is the move they need to make. Azah is ready and willing to get off that Block and be the voter, but I think we'll see DF come around to staying safe and cutting Kyland.
You can watch all of these Big Brother events using the archives Flashback, the DVR-like feature of this year's Live Feeds which means it's always live, even when you missed it! Sign-up now to get the free trial to watch it all live & uncensored.


Gallery: Live Feeds Highlights
Download our Big Brother App, join us on Facebook & Twitter, and get our Email Updates for more!