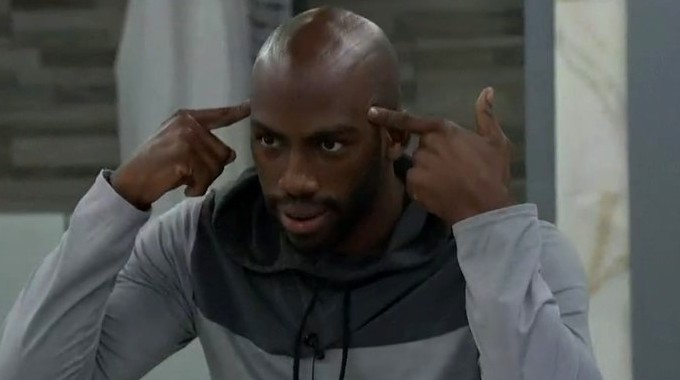 Veto Day arrived for the Big Brother 23 Houseguests on Saturday and brought plenty more drama as the HOH's Backdoor plan rolled along with the target worrying and others worrying about pulling it off. Targets are shifty things though and Tiffany isn't one to let an opportunity pass when she could try to get out a target of her own instead. Read on for all the highlights from the Feeds on Saturday.
If you've got the Live Feeds (Free Trial) then you can watch all of these moments with the Flashback feature to go back and watch those important conversations or funny scenes you may have missed.
Big Brother 23 Live Feed Highlights – Saturday, August 7, 2021:
8:15 AM BBT – HGs are waking up for Veto Day!

8:40 AM BBT – DF is talking to Azah that they need to get Sarah out this week.

9:25 AM BBT – Sarah plays up the role as fake-target and tells DF she thinks she's the target.

9:30 AM BBT – Britini tells Tiffany that she'd be okay with Sarah going home this week instead of Christian.

9:55 AM BBT – Feeds are back from picking players. Alyssa, Claire, and Kyland were selected.

10:00 AM BBT – Tiffany camtalks that she hopes Noms stay the same so Sarah can go over Christian.

10:35 AM BBT – Alyssa tells Christian that she talked with Sarah about taking her off the Block if she (A) gets the Veto. Christian says she shouldn't be making promises like that but Alyssa is confused and thought that was the plan. Alyssa is confused why Christian is worried as he keeps explaining he'll go home.

10:50 AM BBT – Britini and Alyssa discuss Veto plans. They expect Kyland will use it on Sarah if he wins it. Britini shares that Claire said she'd save her (B) if she wins it.

11:10 AM BBT – Tiffany and Claire agree with DX that he should throw the comp because he's made too many promises so far. Tiffany promises DX that if Christian stays and Sarah goes then next week, if she wins HOH, then she'll put Christian on the Block.

11:25 AM BBT – Alyssa asks DX if there is a Backdoor plan against Christian. He promises her there is no BD going on. She is afraid of playing a part in Christian going.

11:30 AM BBT – DX camtalks after Alyssa leaves that if she uses it on Sarah then he will renom Christian.

11:40 AM BBT – Tiffany coaching Alyssa to play hard for the Veto and win it but then not to make any promises on it if she does.

12:05 PM BBT – Sarah worries to Kyland that she could go home this week. He tells her she'll be okay. She says if she stays this week she thinks they should try to work with DX. Kyland agrees.

12:05 PM BBT – Britini relays to DX that Alyssa said she would not use the Veto on Sarah if she won it. She also says she denied to Alyssa about a possible BD.

1:20 PM BBT – Sarah talks with DX and promises she hasn't let on to know the BD plan. She says he's won two vetos so far and could win a third. Sarah thinks she has three players willing to throw the Veto comp to her.

1:50 PM BBT – Tiffany tells Hannah that Xavier wants to keep Christian and he thinks Britini over Sarah should go this week. Hannah says she doesn't trust Sarah and doesn't like that DX does.

2:00 PM BBT – Tiffany tells DF that out of their six, she trusts Kyland the least. She says Kyland only talks about Sarah and doesn't talk game to her (T).

3:00 PM BBT – Tiffany and Claire talk with DX about going after Sarah instead this week. DX pushes back that he has to take his shot at Christian this week. DX doesn't understand why they're so strongly opposed to Sarah when she's just playing the game like Alyssa is.

3:15 PM BBT – After discussing it more Tiffany yields to DX and says it would be his best move to take out Christian.

3:30 PM BBT – Britini tells DX she feels very good about their plan with a 50% chance of winning.

3:45 PM BBT – Sarah tells DF that she quit her job to come on Big Brother and is going to be upset about giving that up if she goes home this week.

4:40 PM BBT – DF and Azah aren't pleased to hear Sarah has been trying to convince Britini to throw the Veto to her. Britini worries Azah or DF would go up in her place.

5:30 PM BBT – Tiffany camtalks that she's decided she needs to flip the vote if Sarah is on the Block come Thursday and send her out instead of Christian.

5:40 PM BBT – Tiffany tells Xavier about Sarah saying she's single (talking about going on trips by herself) and suggests Sarah is lying about a lot. Tiffany tries to push that Sarah is trying to get to the end for prize money as America's Player and might actually be a duo with Kyland as a twist.

6:00 PM BBT – Tiffany pushing the idea that Sarah's gf Shelly doesn't exist. Claire thinks Sarah made up Shelly to keep attention off her teaming up with a guy (Kyland).

6:05 PM BBT – Feeds cut for the Veto.

11:05 PM BBT – Feeds are back. Britini is wearing the Veto.

11:06 PM BBT – Alyssa claiming her helmet didn't fit properly and prevented her from competing well. DX is telling Hannah he's still planning to try and BD Christian but say he's about to renom DF instead.

11:15 PM BBT – Hannah encourages DX that his BD plan is in motion. He regrets not taking the $5K. Tiffany talks with DX and suggests they take out Sarah this week instead of Christian. DX is strongly opposed to that idea.

11:20 PM BBT – Sarah complains that Britini will be obnoxious about winning. Hannah points out Britini earned it.

11:35 PM BBT – Tiffany working on Christian and Alyssa to stoke their frustrations with Sarah over taking the 5K. Tiffany tells them she doesn't want to keep Sarah. Alyssa doesn't understand being on the Block and not taking the Veto.

11:50 PM BBT – DX and Alyssa discuss Sarah's strange decision to take the 5K over the Veto. Derek worries he gave Sarah the wrong idea when he said they would take care of her.

12:00 AM BBT – Sarah is worrying about the votes and goes through them with Kyland. She thinks she has his vote, Tiffany and Claire too, and Kyland says DX will get Hannah's for her. Sarah asks if they should try to make something formal with DX and Kyland agrees.

12:10 AM BBT – Xavier suggests to Alyssa (Tiffany's planted seed) that Sarah and Kyland are a secret duo and there's prize money involved in them getting to Jury together. Xavier says they should split that up. Alyssa says they could just pull Hannah in to replace the departed Sarah. They agree that Sarah should go this week instead of the renom

12:20 AM BBT – Alyssa wonders if DX would renom Christian. Her and X are sure they'd still have the votes for him to stay over Sarah. They want DF renom'd.

12:30 AM BBT – Xavier warns Alyssa to play it slow on evicting Sarah when talking to DX. He points out that DX is close to Kyland and Kyland is closest to Sarah.

12:35 AM BBT – Sarah tells Kyland that she asked Tiffany, Claire, and Hannah if she'd be safe against DF and was promised she would be. Sarah says she'll ghost everyone if she goes home.

12:40 AM BBT – Christian talks with X and Alyssa that he hopes they get a DE soon then send out DX or Kyland. X assures Christian that if he (C) does go up as a renom then they have the votes to keep him.

12:50 AM BBT – Kyland and Sarah are curled up in each other's arms and discuss their affection for each other while saying it's just plutonic and how Kyland does this with his female friends. Sarah doesn't think Shelly would be jealous. Neither thinks it's become an issue because DR doesn't ask them about it.

1:10 AM BBT – DX worries to Kyland that now Sarah has given HGs a reason ($5K) to evict her over Christian. DX reminds Kyland that X does not want Christian to go.

1:40 AM BBT – Azah worries to DF that DX will renom one of them but wishes he (DX) was brave enough to renom Christian.

1:55 AM BBT – Tiffany is working on X again to turn him further against Sarah.

2:25 AM BBT – Sarah feels the $5K was a prize to her for being on the Block for her birthday though she realizes she should have let DX take the 5K.

3:55 AM BBT – DX talks with Tiffany and says he still wants Christian out. He worries the house will want Sarah out no matter who he renoms. They discuss renom options. Tiffany is pushing the "Sarah = bad" narrative but then says she's willing to set that aside to vote out the bigger target (Christian).

4:00 AM BBT – Hannah and Claire discuss that they can get Sarah out next week instead.

4:15 AM BBT – Tiffany is telling DX her theory on Sarah lying about her girlfriend. They watched Kyland and Sarah hug for several minutes and question it.

4:50 AM BBT – Lights are finally out.
What a mess of a Veto Day. It's glorious for our Feeds! Sarah definitely blew it by taking $5K over guaranteeing her shot at staying for $750K. If she goes this week then she earned it and we know Tiffany won't pass up this opportunity to try and make it happen.
You can watch all of these Big Brother events using the archives Flashback, the DVR-like feature of this year's Live Feeds which means it's always live, even when you missed it! Sign-up now to get the free trial to watch it all live & uncensored.


Gallery: Live Feeds Highlights
Download our Big Brother App, join us on Facebook & Twitter, and get our Email Updates for more!