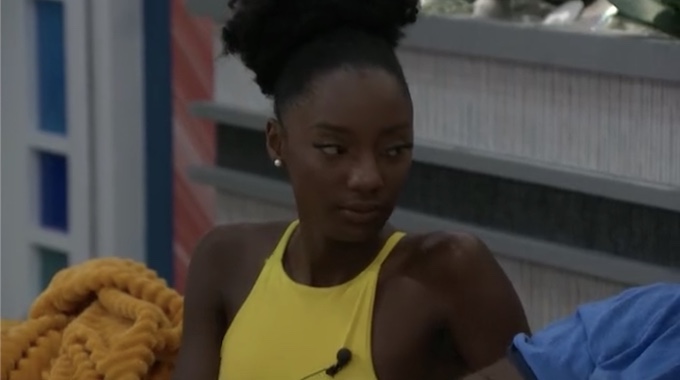 Can someone explain to me why Derek would pick a fight with Azah just days before the Big Brother 23 finale? Especially when she could still potentially win Round 3 of the Final Head of Household on Big Brother 2021. Read on to get all the details of what took place on the Big Brother live feeds on Monday and find out what Azah told him as a result of it.
If you thought that Azah and Derek's issues were resolved after their talk on Sunday night, you were sadly mistaken because Derek has now proven that he isn't capable of letting things go. Monday morning, as soon as the houseguests woke up for the day, Derek decided he needed to reiterate that he feels that he is entitled to a F2 seat. He has been telling Azah this for a while now and has made her feel like he doesn't think she deserves to be in the F3 let alone in the F2.
Derek told her that he is questioning what she is doing this week because she has been cuddling with Xavier and not reassuring Derek that she still plans to take Derek to F2 if she wins. He says that he knows how she was feeling last week, but she cuts him off and tells him that how she was feeling last week is not the same because she hasn't given him any reason to believe that she has changed her mind about taking him to F2. Derek voiced to her that there was potential that he was going to cut her, but she hasn't said anything like that to him.
Until last night that is. Azah tells Derek that she doesn't want to argue with him, she just wants to talk. She tells him that he has made it abundantly clear that he doesn't believe Azah deserves to be there, which he tried to deny saying. She tells him that a week ago, it was a done deal, she was going to take Derek to F2 no matter what, but now that he has implied that she doesn't deserve to be there, she has been doing some thinking.
She tells Derek that she is perfectly okay with taking third place, but she is not okay with Xavier taking third place after all the hard work that he has put in. She tells Derek that if she does win R3 of the Final HOH, she will be taking Xavier with her, not Derek.
Needless to say, Derek isn't happy with this and before he leaves the room, he tells Azah "you're welcome" and adds that she wouldn't be there if it weren't for him. He tells her that the one move that he is going to regret the most when he watches this back is cutting Kyland instead of Azah. Derek also told Azah that if he felt that she didn't deserve to be there, he would have taken her out a long time ago.
Things didn't end there, Derek went out to the living room and continued to bash Azah to Xavier for two more hours while Azah was in the Diary Room. He also proceeded to move all of his stuff out of the boat room and into the coral room where he spent the night alone.
Not only has Derek blown his chance at a guaranteed spot in F2, but he has vowed to never be friends with Azah again. Do you think that Azah will stick to taking Xavier to F2 with her if she wins R3 even though she knows she won't win against him?
Download our Big Brother App, join us on Facebook & Twitter, and get our Email Updates for more!