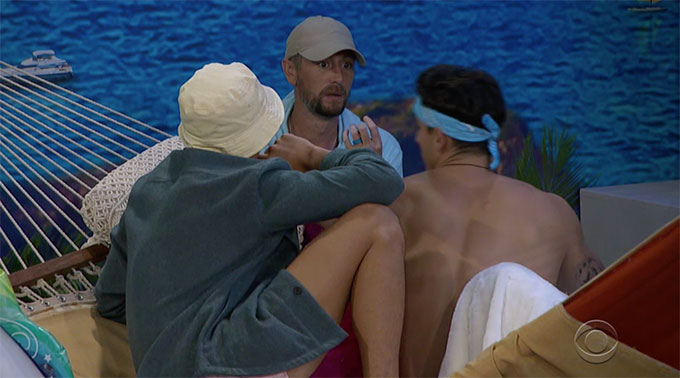 You know what is the darnedest thing? Even though you've promised everyone in the Big Brother 23 house safety, you still have to nominate people for eviction. And once again, Frenchie found himself out of options when the Power of Veto forced him to make a third nomination this week. So who did he go back on his word to this week? Read on to find out.
Wednesday night's episode picks up right after the nomination ceremony. Frenchie lets us know that Kyland is his pawn and Alyssa is on the block because she's half of a potential showmance.
Kyland is feeling overwhelmed, hurt and confused because he thought he and Frenchie were good together. But to be fair, pretty much everyone thought that.
And Alyssa thought the women were going to be safe this week. So she's just as confused.
But the nominees aren't the only ones confused. Frenchie's allies are also really trying to figure out what Frenchie is thinking this week and why he didn't discuss anything with them.
Alyssa decides to get some answers so she goes to Frenchie to ask what is going on. And Christian comes along. When Frenchie tells her that she's up because he's suspecting a shoemance between Alyssa and Christian and she's as shocked as we are. She reminds Frenchie that it's Day 3 and she's not trying to get involved with a guy on Day 3.
And Frenchie seems to realize how stupid all this was and lets us know that he might have made a mistake with his nominations so he has to figure out a new target.
So who will the new target be? Frenchie decides to do some spying and eavesdropping. And it appears to Frenchie that Derek X is out there creating alliances and drama. And Derek X is really confused by that. So are week, Derek, don't worry.
Brent decides to mention to Frenchie that Derek X isn't a threat like Travis is. Brent lets Frenchie know that Travis is playing dumb. Frenchie lets Brent know that he promised safety to Travis as soon as they came in the house. So once again, Frenchie has himself in a conundrum.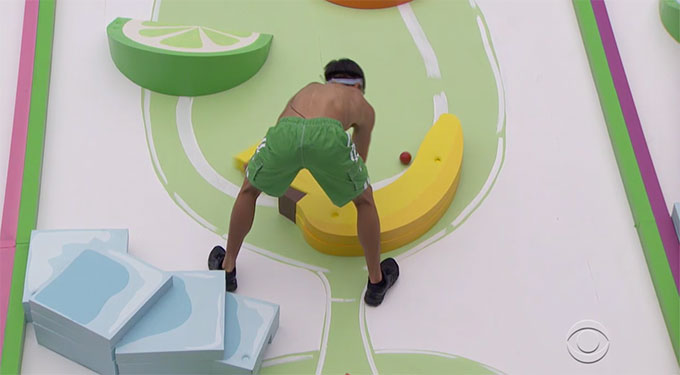 Now it's time to pick players for the Veto competition. Joining Frenchie, Alyssa, Kyland are Tiffany, Travis via Kyland's HG choice, and Derek X. Frenchie's worst nightmare.
And let's get right into the veto competition. For this week's competition, the players have to be the first to roll a ball from the top of a platform to the bottom. It's kind of like a giant game of miniature golf with some puzzle and skill mixed in.
And Derek X wins the Power of Veto! And there goes Frenchie's target
So what is Frenchie going to do now? Is there anyone even left that he didn't promise safety to? No, not really. But since everyone else, and by everyone else, I mean Brent, wants Travis to go up, he lets Derek X know that if he saves Kyland Travis will be the one to probably go on the block.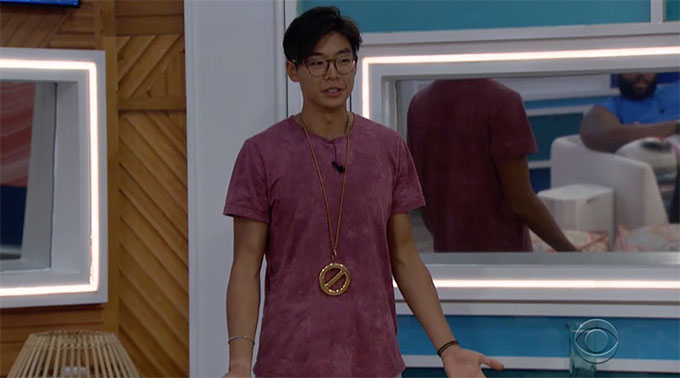 And after making Derek X some safety promises, that's what happens. Derek X knows that Frenchie can't be trusted, but he has to try to get the target off his back. So at the veto ceremony, Derek X takes Kyland off the block and Frenchie names Travis as the replacement nominee.