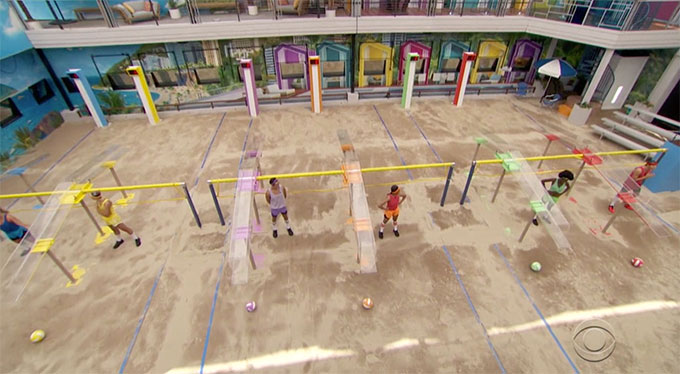 Wednesday night's episode of Big Brother 23 was mostly filler, but what we did get out of it was that Sarah Beth pushing so hard for Hannah to be the target this week was probably not a good idea.
The episode picks up right after the nomination ceremony where Christian nominated Whitney and Hannah for eviction. Christian lets us know that he has been told that Whitney is coming after the Kings, so he had to make the move against her. And Hannah made the perfect pawn because that takes away a vote from the Aces.
But Alyssa and Sarah Beth still think Hannah should be the target. But Xavier isn't having that because Hannah is in the Cookout. And Christian is definitely leaning toward Whitney because her going home this week is best for his game, he thinks.
Sarah Beth lets us know in the Diary Room that she's not happy with her push for Hannah being basically ignore, but she says if she keeps pushing for Hannah, she could end up a target herself. That might be a little too late, Sarah Beth … more on that later.
Whitney decides to figure out why she's on the block this week. Xavier and Christian let her know that they heard she was planning on nominating someone from the Kings team. And while that is true, she denies it to both of them. But what people weren't telling the Kings was that just about everyone but the Kings were going to target the Kings. Whitney is basically the scapegoat this week mainly because she's not in any of the 1000000 alliances in the house.
It's time to pick players for the veto competition. Joining Christian, Hannah and Whitney are Claire, Derek X via Hannah's HG choice, and Azah.
During the veto draw, Sarah Beth whined about not getting picked to play the veto, and that annoyed Tiffany because she remembers how hard Sarah Beth pushed for Hannah to go on the block. So Tiffany decides to let Hannah know this information which is also Tiffany planting seeds for Sarah Beth to be the next person to go. Sarah Beth is now on Hannah's radar AND Tiffany's radar. So it seems she maybe did push a little too hard against Hannah.
Now let's head to the veto competition and see what happens. For this week's competition, the players have to play volleyball against themselves. They have to roll their ball up a ramp and over a net and have to run to the other side to catch it. They get a point for every time the ball crosses the net. The first person to get 100 points wins the competition.
And after a close race between Christian and Derek X, Christian wins the Power of Veto!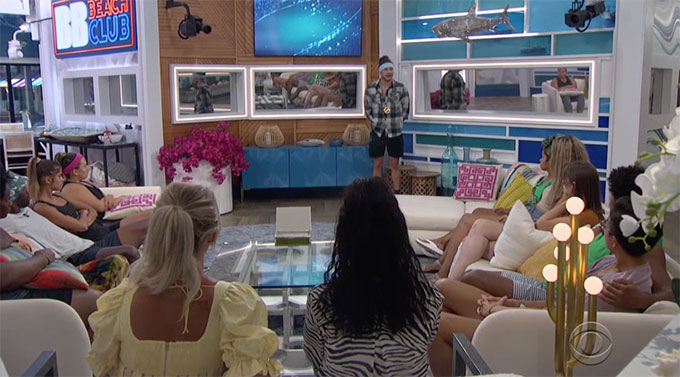 And since it wouldn't benefit his game in any way, Christian decides not to use the Power of Veto. Either Hannah or Whitney will be evicted this week.