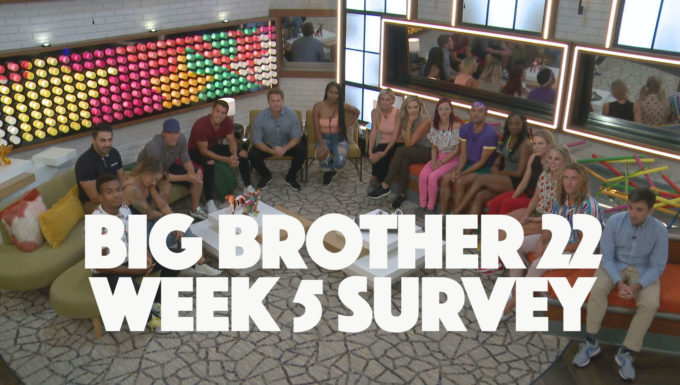 The Big Brother 22 Week 5 Survey results are in. This week we decided to change things up to get a better sampling of the season overall. So we added back in the evicted houseguests to the popularity poll so we can keep an eye on how America's Favorite Player is looking.
So let's start by looking at that poll. The most popular houseguest of the week is Janelle. She took back the top spot from Kaysar who had it last week before his eviction. Since Janelle is back in the race, some of her fans shifted their votes to her, pushing Kaysar down to third place. That means Tyler holds onto the No. 2 spot, which is where he has been all season.
As for the best player poll, Tyler maintains that top spot this week. Enzo knocked Cody back out of the No. 2 spot, though. Several others move up this week as Dani takes a big dip.
And once again, you guys really wanted someone else to win Head of Household. We are starving for a power shift but just haven't gotten it. Like me, you guys really wanted Da'Vonne to win HOH and shake things up. It almost happened, but here we are with her sitting on the block this week instead.
It looks like Ian would have been the second most preferred HOH. That's because he had a lot of things figured out and was ready to make a move against the big alliance. He has since pulled back on all that since he didn't come into power. But he will likely remember it all if he wins HOH next time.
As for the season overall, it's declining it quality. The overall rating is down to 2.4 stars. Here's to hoping we see a power shift soon so we can all at least get a little bit of what we want this season. 2.5 is a pretty low rating for an All-Stars season. Fans really seem to be unhappy.
Click to view larger