We took a couple of weeks off from our Big Brother 22 Best and Worst Moments for a simple reason: very little good things were actually happening from a viewer standpoint. The Committee Alliance and their sub alliances are steamrolling, and none of the targets this season have stood a fighting chance. But we're back now, with a paired down version that makes a lot more sense.
This week I will just be pulling out the Best Moment and the Worst Moment of Big Brother All-Stars Week 6. This is much more doable and it will lend itself to a more in-depth look at the highest high and lowest low of the week. And of course, as always, this is just my opinion. Feel free to share yours below. So let's get to it.
The Best Moment of BB22 Week 6: Da'Vonne Wins Her First-Ever Competition
Da'Vonne has caught a lot of flack from people during her three times playing this game. She's heard it from fellow houseguests and from fans of the show. And it did take her three tries to win her first competition, but she finally got there. And it happening this season, with how things have been going, made it an even sweeter triumph.
Even though she was most-likely safe this week since Dani said she wasn't touching her, you just never know, especially considering Dani also said she wasn't touching Ian this week and look how that turned out. Da'Vonne was not only able to keep herself completely safe this week, but she was able to hold onto her only remaining true ally, Kevin. David is also an ally, but I still don't know half the time if he even knows how Big Brother works, so Da'Vonne really needed someone a little better in her corner. Like she told Dani, she just couldn't lose someone two weeks in a row. So she made the right decision.
The steamrolling alliance tried their best to make Da'Vonne feel like she was making the wrong move, but when she's already one of the alliance's final three targets, what did she have to lose, really? She's no more at risk now than she was before she used the veto on Kevin.
OK, back to her win. And what a cute competition to win. I know the resources are limited this season because of the whole Covid-19 mess, so that competition was likely a product of that, but I still loved it. I don't think you always need some flashy, large game for it to be effective and intense. Stacking tiny beer cans with tweezers isn't an easy task! I enjoyed it a lot, and Da'Vonne winning made it that much better.
When the Live Feeds returned last Saturday and Da'Vonne was holding the world's tiniest veto, I was confused. Not only because of the small necklace, but because she actually won! And that's not a jab at Da'Vonne. That's me being in shock something we wanted to happen this season actually happened. It was so nice for an underdog to win something this season. And I'm so glad she stood up for herself and made the best move for her game. Congratulations, Da'Vonne! Now go win some more competitions so we can see that house finally get shaken up!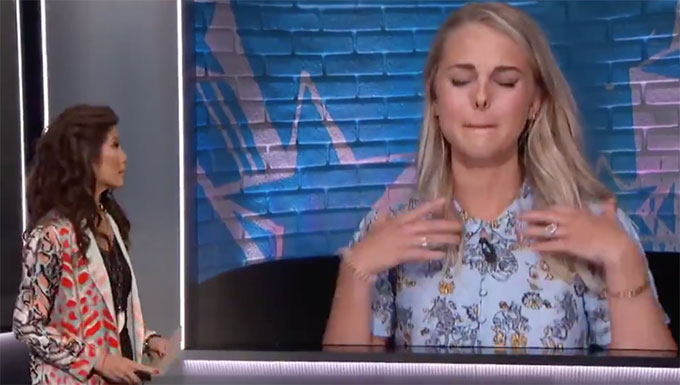 The Worst Moment of BB22 Week 6: Nicole's Edit Concerning Ian's Eviction
If you watch the Live Feeds, then you should have noticed that this week's live show edit didn't even kind of match up with the real story. It's true that Nicole didn't want Ian to go this week. But it wasn't because he's her best friend and "closest ally." If that were the case, she wouldn't have laughed at Memphis making fun of Ian's autism (which led to Nicole losing several of her sponsors). Nicole's closest allies are Cody  and Dani, and in that order. Ian was maybe her third. To me, she seemed to really only be worried about looking like a "monster" for voting Ian out and losing her shield as the only other winner in the game.
And yes, it is a game. And in my opinion, all bets are off when it's a game. Do what you have to do to win that half a million dollars. But own your game while you're at it. Own the fact that you're going to lie and backstab and be a villain. Own being a monster if you're being a monster. That's the biggest problem I have with Nicole. She acts like a sweet, adorkable girl next door who wouldn't hurt a fly. But then she plays Big Brother like a complete Machiavellian and then denies it.
What you saw in the Diary Room before her vote to evict Ian was completely rehearsed. She told her fellow alliance members that she knows she has to vote Ian out, but she needs to figure out what to say so the public does't think she's a monster. And we saw none of that. The show was edited to make it look exactly how she was trying to present it, which is a complete fabrication.
Nicole: I'm tryin to think of what to say. I don't want the audience to think I'm a monster. "With a heavy heart," or something like that. This is so good…shaking up the house. I'm excited. Feels like we're actually playing.#bb22 pic.twitter.com/p0kL4VvFJn

— Tooms (@Tooms_BB) September 17, 2020
And again, I'm not faulting her for playing the game. PLAY THE GAME. But also own the game. Don't pretend you're innocent when you're not. Especially when there's a whole lot of people who watch the Live Feeds day after day, hour after hour. They see everything. There's nothing an edit can hide from Live Feeders.
I think a lot more people would actually root for Nicole if she just owned up to how she plays the game. Big Brother 16 introduced a whole new layer to this game that reflects the real world at times. There's just a lot of gaslighting and lying despite the facts being laid out right in front of us. It's one thing to lie and deceive your fellow players, but when you try to lie and deceive the viewers, it's just crazy. And it only works on the half that aren't watching you from morning until night. We know when you brush your teeth, what you have for lunch, and when you lie to us in the Diary Room.