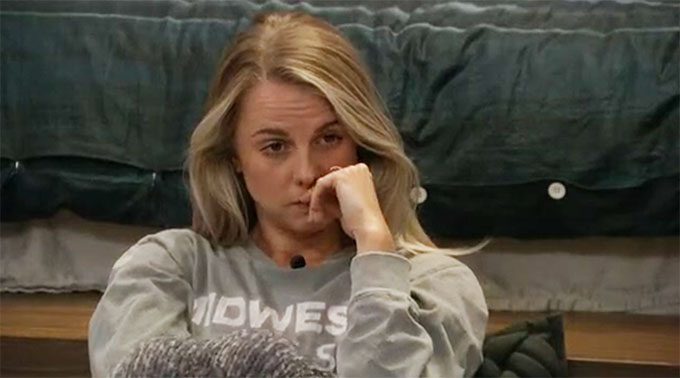 The Big Brother 22 houseguests spent much of Tuesday evening talking about the upcoming vote and what they want to happen the following week. Both Christmas and Memphis feel like they're staying this week, but only one of them is right. And even though Cody and Nicole have talked a couple of times about not being so sure on who the target is, it does seem to still be set. Read on to find out what everyone is thinking about the vote this week and beyond.
If you've got the Live Feeds (Free Trial) then you can watch all of these moments with the Flashback feature to go back and watch those important conversations or funny scenes you may have missed.
Big Brother 22 Live Feed Highlights – Tuesday, October 13, 2020:
3:09 PM BBT – Christmas checks in with Nicole one what she thinks Cody is going to do with his vote. Nicole said she hasn't had a chance, but she has no worries that he won't evict Memphis. Christmas says Enzo has assured her she's safe with him.

3:10 PM BBT – Nicole explains to Christmas that if she let Memphis know he was her target, he could work extra to convince the guys to keep him. She says that's why she lied to him about her target this week.

3:28 PM BBT – Christmas talks to Nicole about her winning HOH next week and protecting both of them and hopefully getting Enzo to the final 3 as well. Nicole talks about how great it will be for there to be two girls and two boys left after so many girls were picked off early in the game.

3:30 PM BBT – Enzo tells Cody that he feels like Christmas is the HOH this week because she's up in the HOH room constantly. Cody says it's so transparent. He says she's only up there to kiss ass.

4:06 PM BBT – Enzo talks about how elite this group is because they've all been in the Top 4 or better fore and some of them will be doing it twice. They go over who has made it to Final 2 or 3 more than once.

4:18 PM BBT – Nicole asks Cody if he still thinks getting rid of Memphis is the right move this week. Cody says he doesn't know and asks her what she thinks. Nicole says she just doesn't want Christmas to win HOH.

4:38 PM BBT – Enzo tells Christmas with Memphis leaving this week, they need each other. He says they need to be sitting next to each other in the final 2 for either of them to have a shot at winning. Christmas tells Enzo she will keep him over Cody or Nicole next week.

4:40 PM BBT – Enzo says that Cody and Nicole came into this season with some kind of deal. Christmas says they gad the same mentor. Enzo says "exactly. They were on the phone for three months before this thing started. I know already."

4:41 PM BBT – Enzo tells Christmas the good thing is they want her to stay this week. Christmas asks if Cody really wants her to stay. He says yes but don't let on like she knows that. Enzo says Cody thinks Memphis is the better player. Christmas says let him think that.

4:42 PM BBT – Enzo says he has a good relationship with Cody but he knows he can't beat him in the end. Enzo says Tyler told him Enzo will not win if the goes to the end with Cody. Christmas says if she wins veto she is protecting Enzo. Christmas says Cody has to go.

4:48 PM BBT – Christmas says they all know if Cody doesn't go next, he wins this game. She says he will win his way to the final 2 and then win the game. Enzo says and Cody thinks he wins no matter who he takes, so he will take Nicole over either of them.

6:12 PM BBT – Memphis is wondering why Christmas is so calm this week since he believes she's getting voted out. Cody tells Memphis he doesn't know what to tell Christmas about his vote. Memphis says Christmas has spent the past two days trying to get Cody backdoored, so just tell her you have to do what's best for your game.

6:17 PM BBT – Memphis and Cody talk about getting to Final 3 with Enzo and then cutting him. After Memphis leaves, Cody says this is going to be an interesting one (meaning the vote when he evicts Memphis Thursday).

7:12 PM BBT – Enzo shows off a boil or an ice burn or something he has around his groin area.

8:02 PM BBT – Cody is upset after Nicole tells him Christmas said Enzo let her know Cody was keeping her.

8:45 PM BBT – Enzo mentions that the final is in two more weeks. Memphis says he felt like the season was never going to end at one point.

9:15 PM BBT – Cody is hanging out in the kitchen baking cookies. Christmas is there chatting with him.

9:25 PM BBT – HGs received five ice-cold beers.

9:40 PM BBT – HGs are hanging out in the HOH room chatting and enjoying their beer.

10:15 PM BBT – HGs are playing charades.

11:00 PM BBT – Cody calls it a night and leaves the room. Nicole follows him to check-in.

11:25 PM BBT – Memphis and Christmas went downstairs and are rehashing the early evictions like Nicole A and Kaysar.

11:35 PM BBT – Nicole and Enzo alone mention Memphis is going on Thursday.

11:50 PM BBT – HGs are turning in for the night.

12:00 AM BBT – Lights out.
After a nudge of wavering the HGs are again settled on Memphis going on Thursday. He's confident his Wise Guys have him but they're ready to cut him loose and keep Christmas who will be the next target if she doesn't pull off a comp win or two soon.
You can watch all of these Big Brother events using the archives Flashback, the DVR-like feature of this year's Live Feeds which means it's always live, even when you missed it! Sign-up now to get the free trial to watch it all live & uncensored.

Gallery: Live Feeds Highlights
Download our Big Brother App, join us on Facebook & Twitter, and get our Email Updates for more!